The Worst Duke in the World by Lisa Berne  is the fifth book in The Penhallow Dynasty series. I read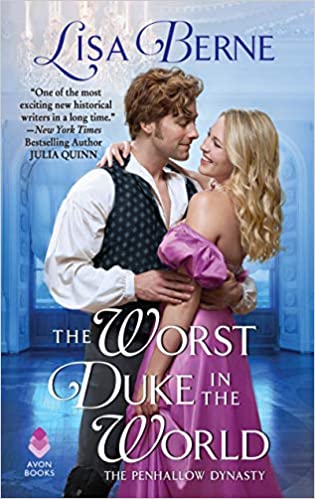 it as a stand-alone and don't feel like I missed anything. Some couples from the previous books are background characters or were mentioned in the book but I felt like the author provided enough background information to satisfy my curiosity. The pacing of the book wasn't consistent to me and some scenes went too slow and I found myself getting bored easily. I liked the storyline and how the author used Duchess, the pig, to create amusement and a common thread for the main characters.
Jane Kent's last known relative passed away and when she was packing, she came across a letter that led her to believe her grandfather was Titus Penhallow. With nowhere else to go, she travels to the Penhallow estate to see if it was possible. Her great grandmother, Mrs. Henrietta Penhallow, saw the resemblance instantly and welcomed Jane into the family. Realizing Jane had not been raised in a privileged household, Mrs. Penhallow arranges for Jane to have lessons with the village vicar, Mr. Pressley, along with the duke's son, Wakefield "Wake." As Jane and Wake became friends, she went with him after lessons one day thinking she was going to meet Wake's mother, the Duchess, only to discover the Duchess was a prized pig. Mrs.
Penhallow didn't care for the duke and realizing that Jane was starting to develop feelings for him, she decides to take Jane to London for the Season. Jane decides to take the risk and told Anthony she loved him before she left, only to have him tell her he was still in love with his deceased wife.
Anthony Farr, the Duke of Radcliffe, was widowed but his sister was determined for him to get remarried and have a spare heir. She invited her friends with eligible daughters to come to visit the duke's estate. Anthony refused to go through another miserable marriage and managed to avoid the women when possible. All he wanted to do was have a quiet household, raise his son, and see Duchess win first prize at harvest time. He comes to realize Jane is not like the other socialite women he has met in the past, but he still wasn't willing to get married again. So, he lied about his feelings to himself and her. Finally, his fear of her marrying someone else overcame his fear of getting married again and he follows her to London.
While I liked the storyline and found the characters to be charming, I can't say this book was a favorite of mine. I never really felt the attachment or affection between Jane and Anthony. I felt like the dialogue was forced most of the time and while I can understand if it was only between the main characters due to both being shy but that wasn't the case. I found the repetitive phrases to be annoying after the first dozen times they were used. Also, the author didn't stay true to the historical time and used more modern terms than I cared for. I was disappointed with this book but that won't stop me from reading future books from this author.

Book Info: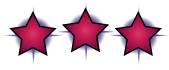 Publication: January 12th 2021 | Avon | The Penhallow Dynasty #5
A wayward duke must choose: will he be the bad hero in a love story gone awry, or the brave and clever hero who risks everything for true love?
The acclaimed Penhallow Dynasty series continues in this fresh, fun, funny tale!
Life's no bowl of cherries for Anthony Farr, the Duke of Radcliffe. Duty demands he remarry to provide a spare to go along with the heir — and eligible ladies keep trying to finagle him into a proposal. All he wants is to be a good father to his 8-year-old son, see the Duchess (his truly terrific pig) win first prize at the harvest fête, and stay single. Even if that makes him a Bad Duke. Maybe the Worst Duke in the World.
Then Miss Jane Kent, a long-lost relation of the illustrious Penhallow family, arrives in the neighborhood and is promptly befriended by the Duke's son. Jane, Anthony comes to realize, is smart and fun and also very kissable and dazzlingly desirable. Still, that's not enough to melt his resistance to marrying again. He made a stern promise to himself, and promises must, of course, be kept.
But what if that's just his head talking, and his heart… is saying something entirely different?