Pride and Pregnancy by Sarah M. Anderson casts some interesting characters in a sexy and intriguing romance. Caroline Jennings is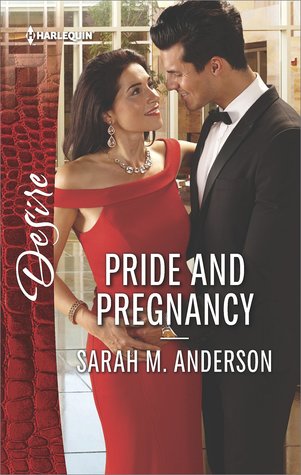 a judge, young and with only a few years of experience under her belt, but tough and fair. She's got a new job on the bench in South Dakota, a replacement for the last few judges who'd been convicted of judicial corruption. Her latest trial is a straightforward case of bank robbery, but her attraction to witness Tom Yellow Bird, an FBI agent, is anything but simple.
Tom's been tasked with keeping an eye out for unusual behavior surrounding the new judge, anything that might look suspicious – like the fact that she's received a huge bouquet of flowers from an 'admirer'. Bribery is serious business, as is blackmail, and he doesn't know if there is something in Caroline's past that could be cause for concern. Convincing himself that getting close to Caroline for the sake of his job is easy – discovering that he's more than just physically attracted to her is not. Tom's a widower, and after losing one wife, he's not interested in finding another. But it doesn't stop them from having an affair. When secrets past and present come out, will it ruin their chance at building a future together?
I really enjoyed this romance! It's a plot I haven't read before so I really liked the originality of the story and the fact that the judge is female (though a female FBI agent would have been just as intriguing!). Tom's name makes it clear he has Native American heritage and there is some discussion of his life growing up on a reservation close to where his home is now. He'd met his wife through friends from college, including the special prosecutor now working on the corruption cases with him. Tom's history as a widower is complicated by the continuing relationship he has with his deceased wife's family who are very wealthy, and he's still involved with the charity benefit in her honor. On some level he's prevented himself from moving on with a new woman out of loyalty to them, but they are happy when he brings Caroline to an event with him, and to see him moving forward with his life. The chemistry between him and Caroline is undeniable and they have some sexy scenes together, including sharing some of their deepest fantasies.
There's a decent amount of suspense in this story as some of Caroline's past mistakes are perfect fodder for blackmail. Caroline has to make some decisions that could free her or haunt her. Plus, the title of the story gives away another little secret (!) and Caroline has to make some choices based on that too. With some ups and downs for the couple, and issues of trust and loyalty in the forefront, their happy ending takes effort on both their parts. The epilogue is a sweet touch. If you like sexy romances with original story lines and likable characters, you'll enjoy this well paced read.

Book Info:

Publication: April 4, 2017 | Harlequin Desire |
It is a truth universally acknowledged, that a single man in possession of good sense must not mix business with passion.
Like that will keep Tom Yellow Bird from pursuing the woman who shocked his senses at first sight. Yes, the wealthy FBI special agent's job is to work a case involving the Honorable Caroline Jennings. It is his duty to protect the beautiful judge. Yet nothing stops him from acting on the attraction between them. And once he discovers Caroline is pregnant any good sense he's ever had completely vanishes.
But when a secret Caroline is keeping is finally revealed, will Tom's pride become his ultimate undoing?