Going Nowhere Fast by Kati Wilde: Aspen is looking forward to spending a month with her best friend on their upcoming road trip. It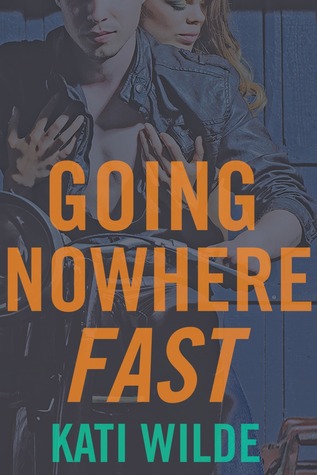 would be a great way to celebrate graduating from college and spend quality time together before both head off to graduate programs on opposite coasts this fall. Aspen is smart, fun, responsible, and used to picking up the pieces after her brother falls off the rails yet again. The drawbacks are spending that same month with her best friends' overbearing older brother and not being able to work or save up some money while traveling.
Bram is a great older brother and would do just about anything for his sister. He's taken over as a father figure when their parents died and is maybe just a little (a lot) overprotective. He took over the family company and was forced to grow up very quickly.
Aspen and Bram got off on the wrong foot back when the girls were freshmen. Ever since that bad first impression, Bram has made no secret of his feelings toward Aspen. Their interactions are antagonistic and Aspen is left feeling judged for her poorer background compared to the millionaire. Which is really too bad, since Bram is seriously H-O-T.
"Okay. And we're going to call a truce, all right? As much of a truce as we can. Because I don't want to spend this entire trip fighting. Even though you're a self-righteous dick."
Amusement twitches at the corners of his mouth. "Agreed. Even though being with you is a slow form of torture."
They give as good as they get, which is why they spent the last four years fighting. But both find that this forced time together without the option of escape or time apart also reveals the attraction and chemistry that both have felt from the very beginning. Before long they find a more pleasurable way to pass the time other than fighting. They finally have a chance to actually get to know each other, except for the secret that Aspen is keeping about his sister.
And he can't help being a dick. "Okay, Tin Man. I won't disturb your, uh-"
"Precise system of organization."
"I was going to say 'primitive male version of nesting.'"
Going Nowhere Fast absolutely delivers and kept me engaged from the very beginning. Kati Wilde brought tension, anticipation, angst, banter, and lots of heat. Ms. Wilde created entertaining characters whom I would love to revisit. Fans of Erika Kelly, Katie Graykowski, and Joss Wood will enjoy Going Nowhere Fast.

Book Info:

Publication: April 18th 2017 | InterMix |
The brakes are off in this sizzling-hot new adult romance from the author of the Hellfire Riders MC Romance series…
One promise.
Two hearts.
Three rules.
Four weeks to break them all.
When Aspen Phillips' best friend invites her on a month-long road trip, she has serious mixed feelings. Sharing their tight quarters will be Bramwell Gage, overprotective brother and all-around jerk. Bram may be ridiculously sexy, but he's made no effort to hide how he feels about Aspen—that she's trash who's no good for his sister. But Aspen is determined to get along with the uptight millionaire—and to keep her promise, concealing a secret about his sister that Bram can never know.
But after a scorching kiss reveals that Bram's feelings toward her run much hotter than she believed, Aspen's emotions swerve into a complete 180. Suddenly the girl who has nothing has everything—but only as long as the truth about his sister remains hidden. Because when all the secrets and promises unravel, she risks losing it all…