In The Girl Who Knew Too Much by Amanda Quick, on the run from those that hurt her boss, she had to change her name and her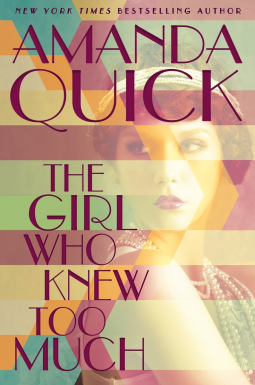 career. Now to everyone, she's a reporter named Irene Glasson and she's chasing the story of a lifetime after discovering a dead woman floating in a pool. Will Irene's get her story before the killer gets her?
"I want the murderer found just as badly as you do, Ms. Glasson. Perhaps even more than you do."
"Why?"
"Because the Burning Cove Hotel belongs to me. I protect what's mine. No one gets away with committing murder on the premises."
"No exceptions?" she asked.
His smile was as cold as his eyes. "One exception."
I don't read a lot of books set in the era Ms. Quick has penned this story in, which was the 1930's, so I was delighted to have had the opportunity to read this book. Because from start to finish, this story was captivating, fast-paced and had me on the edge-of-my-seat with the fact that it provides a good dose of the three M's – Murder, Mystery and Mayhem. Will the heroine be able to handle life on the run? What will she have to do to survive? Will her new career put her in danger?
As for the dialogue, it was a nice blend of playful and intense. Intense due to the main characters back stories, the story Irene is working on as a reporter that she just can't seem to give up on, and of course, because this story isn't just told from the point of views of the hero and heroine but of some secondary characters too, which made this story really interesting. Since various secondary characters had a good motive for committing the murders, and so, it made it difficult to figure out who was responsible for the crimes.
I really enjoyed Irene. She was such a good heroine in the way she's strong and brave by being able to do what she's had to in order to keep herself safe from the people that hurt her previous boss. But what l liked most of all was how persistent she was when it came to discovering the truth. Why was someone doing their best to protect a celebrity? Who hurt her old boss? Are the recent crimes linked to the past she's trying her best to keep hidden? While the hero, he was riveting due to his past. He was a magician and a good one at that, so how did he come to be almost killed? Ever since his accident, he's had a hard time trusting people outside of his friends, yet there's something about Irene that leaves him intrigued. Indeed, she's good for him and his friends aren't above letting him know they approve. However, what I liked most about the hero is how protective he is of the heroine and that he'll use the tricks of his old trade to keep her safe.
"It's all about creating an illusion," Oliver said. "One that will distract attention of the audience from the real purpose of your visit to the club. It's called misdirection."
"I get to be the magician's assistant for the evening, is that it?"
It was Oliver's turn to look amused. "That's it." He said.
Overall, Ms. Quick has penned a really good novel in this one, which provided plenty of suspense, a wonderful romance that left me wanting more of the main characters and a storyline that had me entertained from beginning to end. The way this story ended had me cheering for this couple. A magician is only as good as his tricks, and everything Oliver does to help Irene finally escape her past was very good. I would recommend The Girl Who Knew Too Much by Amanda Quick, if you enjoy Historical Romances and Romantic Suspense.
Book Info:

Publication: May 9th, 2017 | Berkley Publishing Group |
When Hollywood moguls and stars want privacy, they head to an idyllic small town on the coast, where the exclusive Burning Cove Hotel caters to their every need. It's where reporter Irene Glasson finds herself staring down at a beautiful actress at the bottom of a pool…
The dead woman had a red-hot secret about up-and-coming leading man Nick Tremayne, a scoop that Irene couldn't resist—especially since she's just a rookie at a third-rate gossip rag. But now Irene's investigation into the drowning threatens to tear down the wall of illusion that is so deftly built around the famous actor, and there are powerful men willing to do anything to protect their investment.
Seeking the truth, Irene finds herself drawn to a master of deception. Oliver Ward was once a world-famous magician—until he was mysteriously injured during his last performance. Now the owner of the Burning Cove Hotel, he can't let scandal threaten his livelihood, even if it means trusting Irene, a woman who seems to have appeared in Los Angeles out of nowhere four months ago…
With Oliver's help, Irene soon learns that the glamorous paradise of Burning Cove hides dark and dangerous secrets. And that the past—always just out of sight—could drag them both under…