Unwritten by Rachel Lacey: When Professor Josh Randall finds discovers Katherine Hayes trying to catch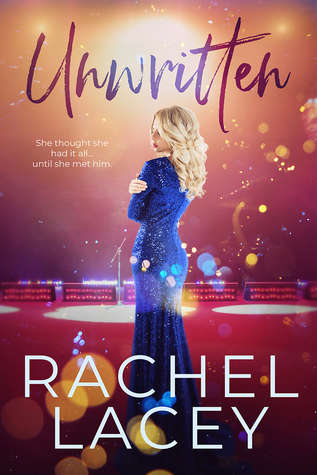 her dog in Central Park, he assumes she's just a regular woman. After strolling through the park and reaching the end, he discovers differently when they're mobbed by paparazzi and autograph seekers. Upon learning she's a popular pop musician and actress, he wants nothing more than to put their meeting behind him.
Kate is in the middle of a scandal–someone leaked fake nude photographs of her. Josh wants nothing to do with limelight, but Kate wants to feel normal. Josh relents and agrees to go out with her if she keeps their relationship secret. Kate wants nothing more than to feel normal, so if she has to keep their relationship secret in order to get that, she will. It becomes clear that Josh, who believes his deceased fiancé is his soulmate and the only person he would ever love, isn't willing to give their relationship his all.
I felt for Kate. Someone was out to sabotage her and ruin her reputation. She also has to deal with her mother, who makes a sudden reappearance in her life and causes trouble.
Kate wanted to try a relationship with Josh because he was out of the business. She was tired of dealing with people trying to use her to further their own careers. Even though both were scheduled to leave the city in a few weeks, she was willing to throw all of herself into a relationship with him.
Josh frustrated me at times. He wanted to keep their relationship out of the press, which caused Kate to wear disguises when they went out. Eventually he loosens up about it, even though he's not thrilled with being photographed. The point I really disliked him was when he basically tells Kate she's second fiddle to his deceased fiancé.
He faced the window. "I guess I'm afraid anything else would just be settling for second best."==
He also gets upset at Kate for something that wasn't her fault and ends up acting like a bit of a jerk because of it. However, by the end of the book he manages to redeem himself.
Overall I enjoyed the story. Despite my frustrations with Josh, I really did like Kate and Josh together. He shows her it's ok to stand up for herself, whether with her mother or the press, and she teaches him it's ok to move on past tragedy as well as to loosen up and become more flexible in his relationships. The story also shows just how far people are willing to go to get ahead in the business and how far family is sometimes willing to go to capitalize on a relative's fame.
Book Info:

Publication: May 1, 2018 | Rachel Lacey | Rock Star Duet #1
Pop sensation and Hollywood star Katherine Hayes has worked hard to maintain her squeaky-clean image. But with nude photos going viral on the internet, the ensuing smear campaign threatens to ruin everything.
A chance meeting with a handsome college professor—who's adorably clueless about her identity—is a rare break from the stress. But when shocked recognition dawns in his eyes, her survival mechanism kicks in. She can't simply let him walk away to add grist to the rumor mill.
Josh Randall has already loved and lost his soulmate. Yet when he witnesses Kate in a vulnerable moment, he can't deny the pull between them. Even though he believes down to his bones that true love doesn't come twice in a lifetime.
A no-strings fling sounds like the perfect solution. But Kate never expected Josh to see the woman hiding behind the celebrity—or that the paparazzi would catch on to their sizzling passion so quickly. Making it hard to keep their tangled emotions from tearing their hearts apart when it's time to say goodbye…