Wow, what a phenomenal, spicy read!  Private Practice by Samanthe Beck has a little bit of everything; romance, heat, drama, love and tons of humor, it is the total package.  It is difficult to believe that this is her debut novel!  I didn't just like Private Practice, I absolutely loved it!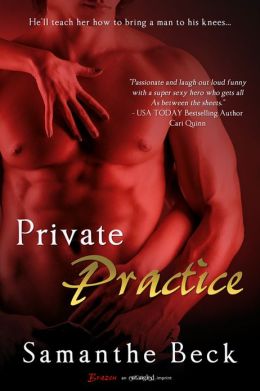 Private Practice is about the developing relationship between the studious good girl, Dr. Ellie 'Sparky' Swann and Tyler 'Footlong' Longfoot, the sexy bad boy with a heart of gold. Both Ellie and Tyler grew up in the same small town of  Bluelick, Kentucky.  They are both the successful products of unpredictable, single parents. Ellie is a physician and opens a private practice in order to be near her diabetic father.  Tyler runs his own building company and is dedicated to the community. They come together under the most unusual circumstance.
Since high school, Ellie has crushed on good-looking, secure, attorney Roger Reynolds, and she has created an entire future with him in her mind.  She hears through the grapevine that Roger likes a wild woman in the bedroom, so she asks Tyler to tutor her so she can eventually impress Roger with her sexual skills.  Tyler is well known in for his sexual prowess. Let the tutoring sessions begin!
Ellie is a bookworm and as such bought a book about what makes a man happy in the bedroom.  The book is her bible.  She is constantly referencing it before, during and after each tutoring session. Each session is based upon a particular chapter she deems important, and the lesson plan that she has written.  Of course Tyler thinks the book is silly but pacifies her nonetheless.  So funny!
Sparks ignite and strong feelings start to form between them.  Ellie slowly conceives how much she likes Tyler, but she has to let go of her analytical self and the fantasy man she has crushed on for years.  Tyler realizes that he wants to settle down and commit.  His womanizing days are no longer appealing, he just wants Ellie.  They learn many things about each other during their time together and surprise themselves in the process.
What a well written story!  The secondary characters are so interesting they could each have their own individual book.  I was able to transport myself to Bluelick, sharing a laugh and a drink with Melody, Roger, and Junior.
I am looking forward to reading another book from Samanthe Beck.
Book Info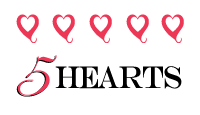 He'll teach her how to bring a man to his knees…
Dr. Ellie Swan has a plan: open her practice in tiny Bluelick, Kentucky, so she can keep an eye on her diabetic father, and make hometown golden-boy Roger Reynolds fall in love with her. But Ellie has a problem. Roger seeks a skilled, sexually adventurous partner, and bookish Ellie doesn't qualify.
Tyler Longfoot only cares about three things: shaking his bad boy image, qualifying for the loan his company needs to rehab a piece of Bluelick's history, and convincing Ellie to keep quiet about the "incident" that lands him on her doorstep at two a.m. with a bullet in his behind.
The adorable Dr. Swan drives a mean bargain, though. If sex-on-a-stick Tyler will teach Ellie how to bring a man to his knees, she'll forget about the bullet. Armed with The Wild Woman's Guide to Sex and Tyler's lessons, Ellie is confident she can become what Roger needs…if she doesn't fall for Tyler first.