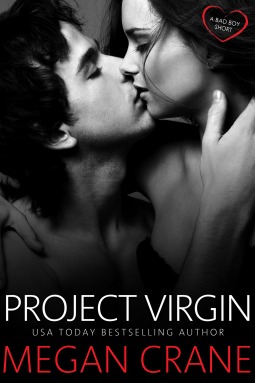 Project Virgin by Megan Crane: With an alpha male and a twenty six year old virgin who is literally just out of a relationship what could possibly go wrong? Then there are these things called cellphones that we focus on so much we tend to forget there are other people around us, ones that can read those text messages we think are private. One thing leads to another and then you never know when or where it's all going to stop.
Ms. Crane has taken her readers on a journey here. Yes it is a short novella, but it is jammed with a great storyline, heat so hot it might scorch your reader and some great insight into the characters lives. Told from the heroine's point of view the reader gains access to her thoughts and fears. Ms. Crane has done a lovely job making her readers want an alpha like Damon and showing us that even alpha's can have a sweet side.

Book Info:

 Published January 21st 2016 | Tule Publishing |
Maybe the worst idea she's ever had is actually the best thing she could ever do…
Newbie lawyer Scottie Grey spent entirely too many years listening to her ex-fiancé's lies. Now that she's finally kicked that cheater out of her life, she wants to waste no time getting rid of the albatross around her neck: her virginity.
Damon Patrick is the worst possible candidate for the project. He's too good-looking, too experienced. He's too well known around San Francisco—mostly for his many sexual exploits.
He's also kinda, sorta Scottie's boss.
Damon is the worst man for the job imaginable… which might just make him the only one Scottie can imagine giving her virginity to after all.