Promises by Aleatha Romig: While Araneae knows so much more than she did before meeting Sterling, there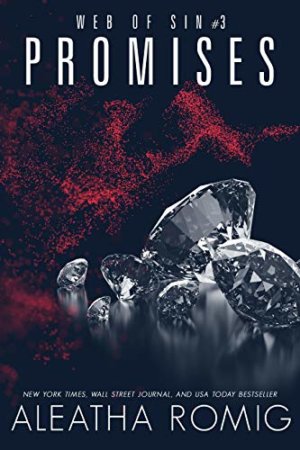 are still so many unanswered questions. Being thrown into a whole new world requires many adjustments, for both Araneae and Sterling. With their strong personalities, they clash from time to time especially as Araneae is independent and unused to the restrictions that Sterling requires for her safety and his peace of mind.
Sterling is definitely an alpha male and unused to being challenged. He both delights and despairs of Araneae's willingness to ask questions, demand answers, and get involved. She gets under his skin and brings out his possessive and protective streak. Their chemistry is as strong as ever.
I shook my head. "Seriously, Sterling, the sun is moving that way. I know west. I also know geography. Give me a city."
He spun me back to face him. "I have, Araneae. Chicago is yours."
A smile came to my lips. "You're lucky you're handsome."
Individually and as a couple, they are tested by the latest events and surprises. They certainly grow closer as they make headway to untangling the secrets of the past. They have very different perspectives on the world and Sterling has to find that line between protecting and shielding Araneae while still keeping his promises to her.
"Oh, yeah? What would that be?"
"What's good for girls is good for boys."
"Sunshine, I'm not a boy."
"No, you're very much a man. I'm also not a girl; nevertheless, if you're not good…" I left the sentence open-ended.
Promises is the intriguing and thrilling conclusion to the Web of Sins series. Aleatha Romig crafts a dark tale filled with lies, secrets, betrayals, surprises, and finally tying all the loose ends together in a fitting conclusion to this series. Ms. Romig further developed the relationships and romance while providing new voices to reveal the past. Promises picks up right were Lies ends and the series should be read in order. Fans of Pepper Winters and CD Reiss will love Promises.
Book Info:

Publication: Published January 8th 2019 | Romig Works, LLC | Web of Sin #3
The twisted and intriguing storytelling that you loved in Consequences and Infidelity is back with the stunning conclusion of an all-new alpha anti-hero in the dark romance series Web of Sin, by New York Times bestselling author Aleatha Romig.
You won't believe your eyes as Promises brings the Web of Sin trilogy to a dramatic close.
Have you been Aleatha'd?
Promises is book three of the Web of Sin trilogy.