In The Army Doc's Christmas Angel (Hope Children's Hospital #3) by Annie O'Neil, Dr Finn Morgan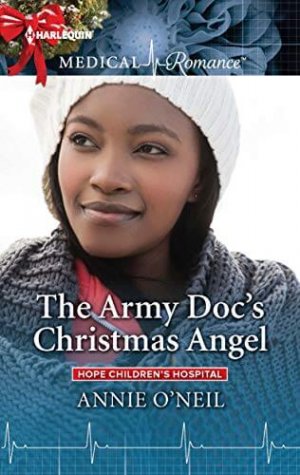 finds it hard to get close to people after all he's been through. Still, there's something about his colleague, Dr. Naomi Collins, that makes it hard for him to stay away from her. Will Finn be able to convince Naomi to take a chance on him or will she end up breaking his heart?
"Finn?" Evie prompted. "Are you bringing anyone tomorrow or are you lending a hand on your own?"
"Why? What's tomorrow?"
Evie gave a faux sigh of exasperation. "What we were just talking about? The Christmas party? For the children?"
"Yes. Right. Of course. No. Maybe." He looked at Evie's list, which appeared to be as long as Santa's list of toys. "Does it matter?"
She gave him a curious glance then shook her head and smiled. "No. Of course it doesn't. Just as long as we're all there to show the children just how big the Christmas spirit is here at Hope."
"Count me in. You've done an incredible job, Evie. The place is looking magical."
Every book of this series is wonderful, but this is definitely the one I loved the most. It was absolutely entertaining; driven by emotion as the heroine struggles with her guilt of the past and whether she can give Finn a chance because she believes she doesn't deserve to be happy; and I loved how Naomi brings out the best in the hero. The way this story started had me loving the hero immediately, as Finn does his best to avoid talking about his past; things he should get off his chest. Will he ever talk to someone? Will he open up to Naomi, especially when she's tormented by her own past? However, it was from the moment the hero and heroine come face-to-face for the first time where this story gets really gets interesting, as the hero comes off like a total jerk, but I loved how he lightens up and begins to let Naomi in.
As for the dialogue, it was intense and made me a little emotional, as Finn and Naomi are tormented by their pasts. Both escaped tragedy where either could have been killed and live with a heavy dose of guilt. In Naomi's case, it's survivor guilt and believing she doesn't deserve to be happy when none of her family have the chance to be. While with Finn, he hurt those he loved by being so angry at the world because of what happened to him. Will they be able to overcome the obstacles they face to be together? That is the question, but I loved how everything unfolded, as Finn does his best to win Naomi over. Wouldn't her family want her to be happy?
"I hope she's worth it," Charlie called out as he threw the basketball through the hoop with the fluid swoosh.
"Who?"
Playing dumb had been one of his fortes during the dark years. But it didn't always work with Charlie. "The woman giving you a taste of your own medicine?"
"And what medicine is that exactly?" Finn grunted as Charlie threw the ball at him. Hard.
"The kind of medicine a man deserves when he's pushed and pushed every woman who's ever tried to get close to him as far away as he can and then, when he falls hook, line and sinker, is made to work for it."
With the main characters, the heroine is resilient, courageous, kind, caring and I loved the tight bond she shares with one of her patients. Then again, she understands the young boy in a way no one possibly could. While the hero, he's a great hero that's overcome so much to get to where he is in his life. Yes, he still faces the struggle of what happened to him, but he's learnt to deal. Furthermore, he's a wonderful doctor and I loved how good he is with his patients, especially the young boy the heroine has formed a tight bond with. I also liked the close relationship he has with his good friend, Charlie, who loves to tease Finn. Yet, what I loved most of all about the hero was his determination to win over Naomi, even as it becomes more and more obvious that winning her over isn't going to be easy. Not when she's so affected by her past.
Overall, Ms. O'Neil has delivered a compelling and heartfelt read in this book, which encompasses well-developed characters that have plenty of chemistry; a delightful romance that had me loving how these two don't get off to the best of starts, but find themselves coming back to each other; and the ending had me crying happy tears, as Finn doesn't give up on Naomi, even when she gives him every reason to. Why doesn't she believe she deserves to be happy? Can he make her see that she does? However, it was the epilogue that wrapped this story up perfectly, as Finn and Naomi are so good together. I would recommend The Army Doc's Christmas Angel by Annie O'Neil, if you enjoy Christmas themed stories, medical romances that are filled with plenty of emotion and will leave you with happy tears; or books by authors Alison Roberts, Caroline Anderson, Tina Beckett and Amalie Berlin.
Book Info:

Publication: December 1st, 2018 | Harlequin Medical | Hope Children's Hospital #3
Letting go of his past…
…to embrace their future!
In this Hope Children's Hospital story, pediatrician Dr. Finn Morgan keeps himself fiercely private—after losing his leg in Afghanistan, he pushed everyone away. So his unexpected attraction to colleague, physiotherapist Naomi Collins, infuriates him! Something in her stunning eyes tells him she's a survivor too. Christmas is a time for healing, maybe they'll both find what they've both been looking for—in each other's arms…
Hope Children's Hospital miniseries
Book 1 — Their Newborn Baby Gift by Alison Roberts
Book 2 — One Night, One Unexpected Miracle by Caroline Anderson
Book 3 — The Army Doc's Christmas Angel by Annie O'Neil
Book 4 — The Billionaire's Christmas Wish by Tina Beckett