Protected (Deadly Secrets #3) by Elisabeth Naughton: What I love about the amazing series is that each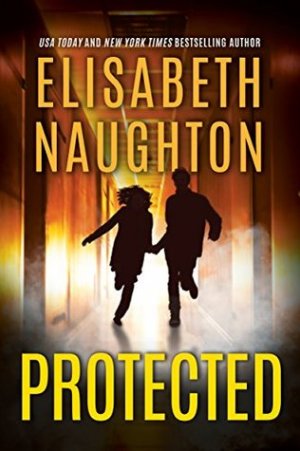 book can be read as a stand alone. While the characters from the other stories appear in each of the books, each book has its very own mystery and suspense that will keep the reader hooked from the first page to the very last. This is the story of Kelsey and Hunter
Kelsey McClane is recently divorced, making her a living as a fashion designer. Now that she is away from her emotionally and sometimes physically abusive ex, she is hoping to make a better life for herself. At least she would if her interfering brothers would call off the body guard that they have trailing her around. The very handsome body guard that has been her friend forever. The same person she has harbored a secret crush on, one Hunter O'Donnell.
Hunter O'Donnell has been friends with the McClane boys since they were all teenagers. He has had a secret crush on their younger sister Kelsey for over 10 years, but knows that she is off limits. Hired to protect her from her ex, he will stand between anything that would come at her to make sure she is safe.
When Kelsey starts receiving threatening text messages, photos and is put in physical danger, Hunter and Kelsey will need to unravel the mystery of who is out to get her and stop them before they cause damage that cannot be undone.
What I truly enjoyed about Hunter and Kelsey's relationship is that they both have issues and baggage. Hunter lost his mother at an early age and swore to never fall in love because that would wreck him, the same way that it wrecked his father. Kelsey was given away by her mother when she was really young, adopted by the McClanes, she suffers from anxiety, fed by the emotional abuse she suffered at the hands of her ex, she fells unlove, unworthy, and like she will never be good enough.
It is with the help of Hunter that she realizes just how strong she really is, and the when he is by her side, she is more than enough, she is perfect, at least, perfect for him and perfect in his eyes. An amazing addition to this amazing series. I cannot way to ready more.
Book Info:

Publication: March 20th 2018 | Montlake Romance | Deadly Secrets #3
A passion to live for—and to die for—in the RITA-winning series from New York Times and USA Today bestselling author Elisabeth Naughton.
Up-and-coming designer Kelsey McClane is on the cusp of success. Recently divorced, she should be enjoying her newfound freedom and glamorous future. Instead, she's living in fear of the past. When she returns home to Portland on a press tour, danger creeps closer than ever. As threatening messages from her bitter ex-husband leave her vulnerable, a new man in her life makes her feel protected.
Former Army Ranger turned security professional Hunter O'Donnell is hired to guard Kelsey. When a shattering explosion rocks her world, Kelsey's ex is the prime suspect, but Hunter speculates there's more to the situation than Kelsey's letting on. Intent on keeping her safe, he delves into Kelsey's past. As the two work together to unmask her stalker's identity, a fire ignites between them that they both struggle to contain.
While the investigation proceeds, it draws them closer not only to each other but also to a lethal plot that's been in the works behind their backs. And with each new secret unveiled, it's not just temptation putting them at risk—it's a madman who will not stop until Kelsey is dead.