Pucked Off by Helena Hunting: Wow. Pucked Off is a gut-wrenching, heartfelt romance that you do not want to miss. It's a profound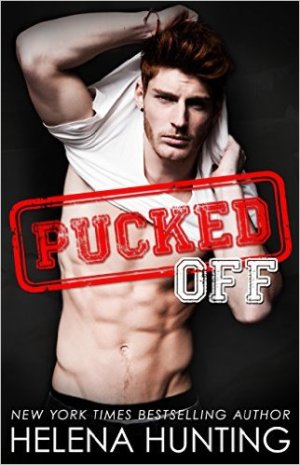 and poignant love story where a tortured hero finds love and unreserved acceptance that gives him the strength to heal deep emotional wounds. All of this angst is wrapped up in a sexy hockey romance; therefore, Pucked Off really is an all-around great book.
Lance "Romance" Romero is a successful hockey player, but he is more famous for his hard partying ways and legendary sexual exploits than playing great hockey. What no one knows is that Lance had a very troubled childhood that has heavily influenced his decisions as an adult and crippled his self-confidence. He does not feel deserving when good things happen to him, and he does not think he I worthy of loved. He recently ended an extremely toxic relationship that only reinforced all of his self-doubts, but he is still having a hard time untangling himself. The woman continually pops back into his life and knows how to manipulate him.
Lance hates being touched and massage is normally a form of torture, but he's forced to have one by his team. He is floored to discover he likes being touched by his new massage therapist, Poppy O'Conner. Enjoying a woman's touch and being able to relax while it happens is completely foreign to Lance, and he immediately wants to experience if again. Poppy is almost like a drug, and the heady sensation is compounded by his fierce attraction to this quiet, stable good girl. He soon wants more than to be just a client to Poppy.
Lance's reckless living makes Poppy cautious to enter into a romantic relationship, but there is something about Lance that she cannot resist, and he really makes an effort to change his ways and woo her. She'll just has to chip past his defenses to understand what drives him, which will ultimately make her trust him with her heart. Lance has to overcome his demons while also still dealing with the woman from his recent past who does not want him to find happiness
Poppy is a wonderful character, but Lance is mesmerizing in Pucked Off. He will break your heart and have you wishing you could jump into the story to show him that he is worthy to be loved just as he is and deserves someone like Poppy. He hasn't had much happiness in his life, and he is scared that he never will. It is only when he begins to shed his protective layers that he is finally able believe he might get a happily ever after, and it is a hard fought happily ever after. But this is what makes Pucked Off such a satisfying romance. You'll experience all of Lance's pain and it will undoubtedly break your heart, but you will also experience all of the sigh-worthy, heart-warming feelings when his heart is mended. You'll shed a tear and then let out a cheer for Lance. This kind of reading experience is why romance novels feed our souls, and why Pucked Off is already on my Best of 2017 list.

Book Info:

Publication: 2/27/17 | Self-Published – Helena Hunting | Pucked #6
I'm NHL defenseman Lance Romero, AKA Lance "Romance."
I'm notorious for parties and excess. I have the most penalty minutes in the league. I get into the most fights. I take the most hits. I'm a player on and off the ice. I'm the one women with no inhibitions want.
Not because I like the notoriety, but because I don't know how to be any other way.
I have secrets. Ones I shared with the wrong person, and she used them against me. Sometimes she still does. I should cut ties. But she makes it difficult, because she's the kind of bad I deserve.
At least that's what I believed until someone from my past gets caught up in my present. She's all the good things in this world. She lights up my dark.
I shouldn't want her.
But I do.
I should leave her alone.
But I won't.