Pursued by the Desert Prince by Dani Collins: The first story in the Sauveterre Siblings quartet introduces us to the two sets of twins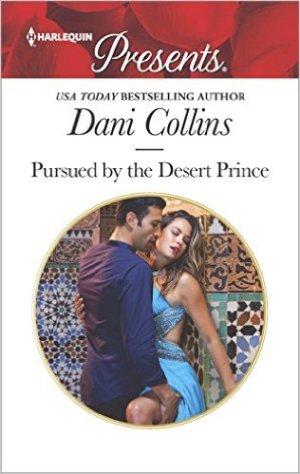 that will be featured in this series about passion, duty and family. Ramon and Henri are identical twins, as are their two younger sisters, Angelique and Trella. Trella endured a kidnapping at a young age that changed all of their lives. Because of the panic attacks her sister now suffers, Angelique is the face of Maison des Jumeaux in Paris, their designer fashion company. Sadiq, the man responsible for finding Trella is getting married and as a favor to him and his bride to be Princess Hasna of Zhamair, Angelique is designing a wedding gown and trousseau for the bride. All is going well, until Hasna's brother Kasim shows up.
Kasim believes that Angelique is Sadiq's mistress, for why else would someone give a fortune in clothing to another woman except as a personal favor? He's determined to thwart any plans she might have to dally with Sadiq after the wedding. When Angelique explains their family connection, Kasim finds himself relieved but also troubled – because he desires Angelique for himself! His duty to his country is to marry a woman of his father's choosing and take up the crown after him, but he can't resist drawing Angelique into a heated affair. Family secrets have taken their toll on Kasim and spending hours with his lover helps him forget, even if it can't last. When love and duty collide, what path will Kasim take? And will Angelique find in him a worthy lifelong partner or just a bittersweet memory?
I really enjoyed learning about both families featured in this story. The half french half Spanish Sauveterre family is wealthy but it didn't stop the young Trella from being kidnapped and the media attention that went with that has not left them. Angelique used to be the shy one but was forced to become the public face of their company to protect her sister. She is a sensitive woman, compassionate and quiet, but very skilled and a competent businesswoman. She still feels guilt over her sister's kidnapping as they had meant to take her, and the connection between her and her sister is very strong. We also learn a little about her brothers and some hints about what their upcoming stories will be about. I liked the closeness of the siblings and their concern for each other.
Kasim's family is a more traditional Arabic one, complete with a desert oasis getaway to go with their family palace. Kasim's father has two wives and this has caused many problems with rivalry among the women. The children, Kasim and his half sister Hasna are close and Kasim's concern for her is what brings him to Angelique in the first place. They had a brother, Jamal, who is no longer with them and his loss is grieved by them both. Kasim comes across as arrogant but not excessively so. He acts like a man who will be in charge of a Kingdom. His duty to his family and country supersedes anything else, and sometimes he makes decisions that are not ones he would make if he were free to choose his own bride. The love scenes with Kasim and Angelique are sensual and passionate. They have some rocky times as Kasim navigates the path set before him, but we get a lovely happy ending for this couple complete with a sweet epilogue. The variety of settings from European cities to the dry desert Kingdom of Zhamair make for an exotic background to this sexy romance. I'm looking forward to reading more of this series!

Book Info:

Publication: Feb 21, 2017 | Harlequin Presents | The Sauveterre Siblings #1
Draped in the desert prince's diamonds…
To ensure his sister's successful marriage, Kasim, Crown Prince of Zhamair, must stop Angelique Sauveterre's alleged affair with his future brother-in-law. But when Angelique denies any involvement, Kasim can't resist the chance to make the feisty beauty his!
Angelique is tempted by Kasim's offer of a fling–always compared to her twin sister, she's never allowed to just be herself. They couldn't be from two more different worlds, yet Angelique blossoms under Kasim's touch and surrenders to the desert prince. But can he give her more than passion and precious jewels?