Pulled Under by Lisa Renee Jones  is book two in the Walker Security series but is a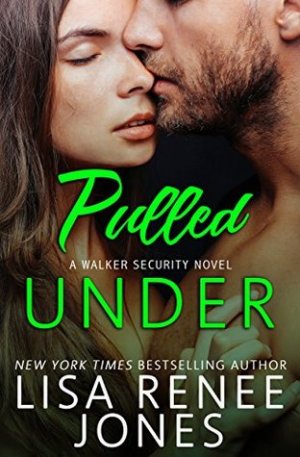 standalone. You do not have to read the first book in this series, but you certainly can. Pulled Under is one of those books that you have to read in one sitting because you won't be able to put it down. From the very beginning I was hooked!
Asher is back in New York after promising to never return. He's only working at the club to catch a serial killer, though. Asher might be inked with blond hair, but he's also dangerous. When Asher is given the task of training Sierra, he takes to his task with ease. He's immediately attracted to her, but when someone bad sets his sights on Sierra, it will be up to Asher to protect her.
Once upon a time, Sierra met Prince Charming, but he was actually The Beast, in disguise. Now, Sierra is always looking over shoulder and is afraid some dangerous people are going to find her. She needs her job at the bar, and even though it isn't safe for her to work there, it's her only option. Meeting Asher is a complication, Sierra never predicted. He stirs all kinds of feelings in her, that she thought were long ago buried.
"My life is a mess, Asher. I can't pull you into it."
"I'm really good at cleaning up messes."
"You barely know me. I barely know you."
"I get it. You don't trust me yet."
"And you trust me?" she challenges
"Actually, I do. I have a knack for reading people."
"Be careful," she warns. "Sometimes you think you have a knack and then you're proven wrong."
Asher knows Sierra is hiding some things, and he wants to be the one who slays her battles, so she isn't afraid anymore. Sierra gets to him, like no one before. He wants her and has no intentions of walking away.
"I was just too stupid to see what was in front of me."
"I'm in front of you now. Choose to see me. Choose to let me see you."
But, when danger surrounds them, will either of them walk away unscathed?
Pulled Under is definitely a page turner with characters that are easy to enjoy. Sierra is tough, sassy, and is good with mace. I loved her as the heroine. As for Asher, he's hard not to love. He immediately takes control of the situation and is very protective of Sierra, despite, just meeting her. Their attraction to each other is quick, but strong. Highly recommended for those who enjoy the romantic suspense genre.
Book Info:

Publication: November 28th 2017 | Julie Patra Publishing | Walker Security #2
He is blond, tattooed, and dangerous. She's as beautiful as she is mysterious and could be his destruction…
Asher wasn't always a member of the elite Walker Security team, he was a billionaire's son, who rebelled against his father's controlling hand, and ended up in New York City's underground of drugs, rock n roll, and danger. But that is long behind him, and while his tattoos and long blond hair remain, he's now a chameleon, far more comfortable in a suit and tie than a leather jacket.
Or so he likes to tell himself.
But now Walker Security needs him back inside the underground club scene for a police case they're working. Women are dying, murdered, and the clock is ticking until another victim is claimed. When Asher is pulled back into this toxic world he meets Sierra, who is as beautiful as she is mysterious. A woman who calls to a darker side of him, long suppressed, unleashing it in what becomes wicked hot passion and obsession. But Sierra has a secret, one that leads her, and Asher, to a dangerous place, and game, with dangerous players, and the game is about life or death.