Reluctantly Royal by Gillian Archer: Lucien is the youngest of three brothers born into the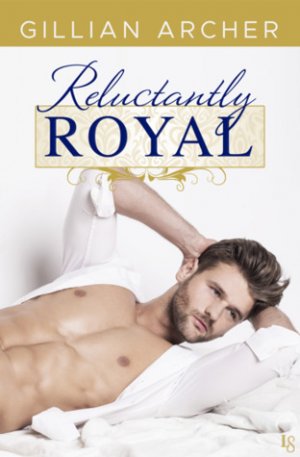 Monaco royal family. Luc is known as the bad-boy prince who pretty much does what he wants without most of the burden of royal duties. He loved his time as a pilot in the French air force, but everything changed when his dad and twin brother died in an accident. Now he's forced to play the part of dutiful, responsible, scandal-free spare heir. The only upside is this upcoming working trip to Vegas….
Luc is enjoying himself after a year in mourning when he sees a gorgeous, vivacious blonde across the bar. It's refreshing for him to be in a location and hitting on a woman who has no idea of who exactly he is. It helps that there's an immediate pull towards Hannah and that she's feisty, sassy, and makes him work for her time and attention.
"I can do that. I can't wait to see what nefarious plan you come up with after our date tonight."
"You're a hard act to follow, but I swear I'll make it worth your while."
"It's a date."
Trying to maintain his cover of not being a prince is challenging when he's surrounded by his entourage of bodyguards, an assistant, and ever pressing phone calls. But Luc truly appreciates just being himself when he's with Hannah. She brings out a playful side of him as he continues to pursue her. It was meant to only be a fling, but their relationship quickly becomes more even as both are keeping secrets.
"You can't blame a guy for trying."
"Yes, yes I can. And I do." Hannah sat back in her seat and crossed her arms over her chest. "'You've made me different.' Phffffffbt. Once a bad-boy prince, always a bad-boy prince."
"Only with you, mon chou. Only with you."
Reluctantly Royal is an entertaining, sexy, opposites attract romance. Gillian Archer created a fun story with a lot of banter and back and forth as what happens in Vegas may not stay in Vegas. Ms. Archer created an interesting cast of characters in their family, friends, bodyguards, and staff. Fans of A. M. Madden and Teri Wilson will enjoy Reluctantly Royal.

Book Info:

Publication: January 16th 2018 | Loveswept | HRH #1
A bad-boy prince is tamed by a vivacious American beauty in this charming love story.
Officially, the world knows me as His Royal Highness Prince Lucien of Monaco, but you can call me Luc. A long time ago, I vowed never to let my heritage stand in the way of a good time. Now the party's over.
With the death of my father and my twin brother, I've lost a part of my soul—and my freedom. My heartless older brother tells me that not only do I have to settle down, I need to marry a girl with the right bloodlines. AKA, a princess. Yeah, I'll get right on that . . . after one last trip to Vegas.
That's where I meet Hannah. Not only is she gorgeous and down-to-earth, she reminds me what it's like to live completely in the moment. Plus she has no idea who I really am. Hanging out with the locals, I feel like I can just be myself again. Besides, our chemistry is undeniable—especially after we take things to the next level.
What happens in Vegas is special, and I don't want it to stay there. But I've been keeping a secret that will tear us apart. The last thing I expect, though? Hannah's been keeping a secret of her own . . . one that might just bring us together.