Pursuit by Caitlyn Nicholas: Dimity Pond lives in a little farmhouse in the middle of nowhere. Married, owns a deaf dog, boards horses… ordinary really. But saying her life isn't what it seems is a massive understatement. One morning a woman comes to visit – that woman is her husband's *real* wife. Shocking to say the least. On the heels of that announcement, she learns the woman who helps with the horses is hubby's THIRD wife. To top things off – the bastard ran off and cleaned her out.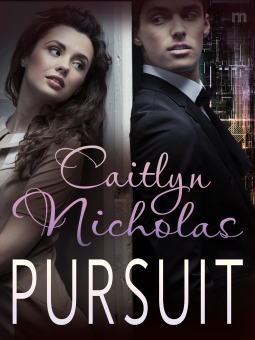 Turns out, that's not the least of her worries. She's not actually Dimity Pond. She's Sarah Easton, and she's on the run. Sarah is a bit of a hacker. Nemesis is the man that set her up to take the fall when he crashed EasyBank. Now he's back. He's ordering her to release a virus for him or else he'll unleash hell upon her.
Richard Summerhayes owns "The Bunker" – a facility just down the hill from Dimity's little farmhouse that also happens to be a new state-of-the-art, top of the line data recovery center. It's also the target of Nemesis' virus. But Lord Summerhayes isn't as oblivious as he seems. He knows exactly who Dimity is and he knows what she's doing – in a general way. He's just waiting for her to make a move.
Dimity isn't giving in to Nemesis without a fight. She knows how to undermine the virus so it won't do the damage he wants it to do. She's also working on a "stalker" program so she can track down this guy and stop him from making her life miserable. Maybe in the process, she can clear her name and stop running.
When Richard and Dimity finally meet – the dominoes start to fall, and fall, and fall… Neither one of them knows what kind of rabbit hole they've fallen down until they take that last step. He has to convince her to trust him, and she has to get the numbers out of her brain and into a computer before they can stop the mayhem from putting a halt to society as London knows it.
When all is said and done – lives hang in the balance and Dimity has to choose between putting all of her trust in the man she's fallen for – and sacrificing her safety to save everybody.
Let me warn you up front that this book is chock full of technobabble. Not so much that it's difficult to understand, but if you don't like nerdy stuff like that – this book may not be your thing. Also, while the plot isn't terribly confusing, it is quite complicated. There are obstacles at literally every turn, and the story probably could have lost a little of that and still been plenty suspenseful.
The Hero & Heroine fell for each other very quickly but since they were in life and death situations it was mostly believable. There were a couple of places where I had to cringe because of what was being done to Dimity, but she's a tough cookie. I really liked Richard and his daughter Poppy – and some of the outlying characters were fleshed out very nicely.
Amazing detail, sometimes too much angst – but I enjoyed it. Not a quick read.
Book Info
Publisher: Momentum (August 1, 2013)
Legendary hacker, Dimity Pond, is on the run from the law.
Her landlord's sold her home, her money has disappeared along with her two-timing husband, a cyber-terrorist named Nemesis is forcing her to wreak havoc with a nasty virus and she's developing a vile migraine.
Six years ago, Nemesis framed Dimity for the collapse of one of Europe's biggest banks. The money was never found, and the bank's failure caused untold damage to its customers. She's been living under the radar ever since. The only way she can clear her name and live a normal life is to uncover Nemesis's identity, but he's always one step ahead.
Since Lord Richard Summerhayes left the Special Forces he's built the best disaster-recovery network in the world, known as The Bunker. Banks, militaries, airports and other major systems around the world rely on him as the last unshakeable digital fortress in the face of disaster. Richard has been keeping an eye on his neighbor who has a dubious hacking past. He doesn't like hackers, and when someone nukes his network with an intriguing new virus he knows exactly who to blame. But when he confronts her, he gets a whole lot more than he bargained for.
When Nemesis commits an unthinkable act of terrorism, the last hope is an encrypted file that only Dimity can crack. Will Nemesis manipulate Dimity into helping him wipe out the world's biggest financial center? Or can Richard and Dimity take Nemesis down once and for all?