In Gabriel's Promise (Gabriel's Inferno #4) by Sylvain Reynard, Professor Gabriel O. Emerson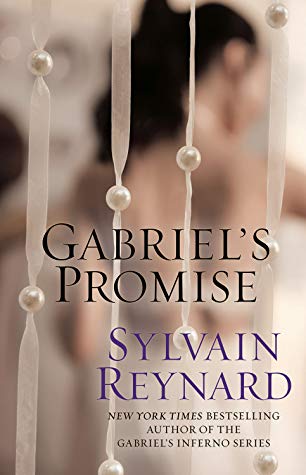 and his wife Julianne have been through untold hardships in their lives to get to where they are now: married, ridiculously in love, and parents to their baby girl Clare. Life should be getting easier. Or at least more on an even keel. But as Julia and Gabriel are enjoying time with their new daughter, they both receive news in regard to their individual careers in academia that could change everything. And could even possibly have them living apart on different continents for a while. Something that Gabriel will not allow to happen.
"I'd like to be awakened like that every morning. Look at you–a beautiful, fierce goddess of love, who never takes except gives tenfold more. Let me be your servant in love and desire."
Just as Julia is healing from her scary delivery to Clare, a new health crisis could be on the horizon. Not wanting to bother Gabriel when they are already trying to sort through his opportunity to lecture in Edinburgh next year and how it will match up to her graduate program, Julia attempts to ignore what's happening. But her body isn't cooperating. As she and Gabriel work to find a solution to their predicament, someone begins to toy with them, causing them to fear for their safety. All they know is that neither of them will allow anything to happen to their family. No matter what Julia or Gabriel must do to protect each other.
'Professor Emerson in a suit and tie was certainly attractive. But a shirtless Gabriel crooning at their baby was beauty itself.'
Gabriel's Promise was a fun foray back into Julia and Gabriel's lives with several plot twists as well as the passion and tenderness between them we've come to love dearly.
'No matter what challenges or dangers he and Julianne faced, they would do so as a family.
And that was Gabriel's promise.'
There was a whole lot going on in the latest installment of the Gabriel's Inferno series. Between acclimating to life as new parents, family concerns, career challenges, and even some intrigue (that never was fully resolved…hello, next book!), Gabriel and Julia were tested in many ways. Where this was a continuation of where book three (Gabriel's Redemption) left off, I think you would get more out of the story if you've read the previous ones. Otherwise it's a steep learning curve and a huge cast of characters to get to know.
I have to admit that my favorite parts were about Julia and Gabriel interacting with their newborn, Clare. The professor was very protective, absolutely in awe of his beautiful little principessa, and so cute that readers' hearts will surely melt. There were some scenes that were extremely comical while Gabriel figured out diaper changing and other parenting intricacies that had me laughing out loud. And Julia was right there with me, hiding her smirks as best she could while her handsome husband bumbled along.
It did kind of feel like it was almost too much at times, with everything going on, though. I do realize that Gabriel and Julia's relationship would shift and change as they became parents, but it seemed like aside from the (scorchingly hot) love scenes, there wasn't as much of their connection as a couple being explored. But the intimate moments they did spend together were tender and lovely. I'm hoping that we'll get another book which will show how Julia and Gabriel have grown closer, as well as settling some of the plot threads that were left undone here.
The enigmatic professor and his beloved muse were back in Gabriel's Promise, where author Sylvain Reynard gave fans a look into the next chapter in the couple's exiting life together.
Book Info:

Publication: Published January 7th 2020 | Berkley | Gabriel's Inferno #4
Author Sylvain Reynard returns with the fourth installment of the bestselling Gabriel's Inferno series.
When Gabriel and Julia Emerson first lay eyes on their newborn daughter, Clare, they realize life as they know it will never be the same. Gabriel has vowed to be a good father when he suddenly receives an invitation to give a series of lectures in Edinburgh, Scotland–an opportunity of high prestige–but that would mean leaving his wife and newborn child in Boston. Hesitant to bring it up, he keeps the opportunity from Julia as long as he can, not knowing she has a secret of her own.
When a frightening situation arises that threatens to break their new family apart, both parents must make sacrifices. With the family in danger, the looming question remains: Will Gabriel pursue his lectureship in Edinburgh, leaving Julia and Clare unprotected in Boston, or will he abandon the chance of a lifetime in order to ensure his family's safety?