In Real Men Don't Quit by Coleen Kwan, Luke Maguire wants peace to write the sequel of his bestselling book.  He is over 8 months past due on the book that made him into a famous author but he feels like a fraud and with the recent death of is mother, his inspiration is even more shot. So he is living in his agent's house for the time being while he tries to concentrate on his book with no outside interruptions.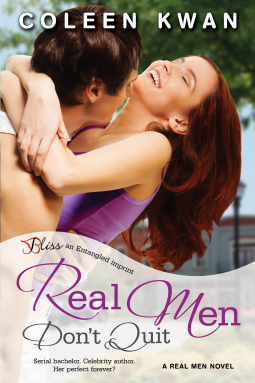 Tyler Jones wants to be able to raise her daughter the best way she can. She is a part owner of Java Joolz a coffee and art shop in one. She makes her own jewelry out of silver and precious stones that she sells in the shop. But she knows that she can only do so much during the day. Taking care of her daughter and making her jewelry are full time jobs, so if her house has to be a little messy as a consequence she can live with it. As long as Chole's paternal grandmother does not try to take her away again.
When Luke finds a little girl on a mission to go to the pool in the property without adult supervision, he knows that he must stop her or she may just drown there by herself. As he grabs Chloe and is on the way back to her house to take her home, he meets Tyler clad in only a shirt and purple panties looking for her daughter.
With neither of them wanting to have a relationship for fear of the unknown that they learned from their past, the attraction and chemistry between them is not something that either will appreciate. Luke will have to learn that because his father was not family worthy does not mean that he is not either. While Tyler will have to learn that love can be selfless as well as selfish and it's up t her to see the difference unless she turns her back on true love.
If you like a fun and sweet romance you will like Real Men Don't Quit by Coleen Kwan.
Book Info
Publisher: Entangled: Bliss Publication Date: April 8, 2013
Serial bachelor. Celebrity author. Her perfect forever?

When famous author Luke Maguire decides to write his next novel in the small town of Burronga, Australia, he's sure he can ignore the fiery redhead next door. Not only has he just been burned from a high-profile breakup, but he's never been one to set down roots. No, he'll finish his novel and leave Burronga. And soon.Tyler Jones just wants to run her business with her best friend, Ally, and take care of her three-year-old daughter, Chloe. She's never needed help from anyone, especially not a man, and the brooding, rugged writer next door can't tempt her. Not in the least.Only Tyler and Luke can't stay away from each other. So they set rules. No staying overnight, no future plans, no sappy good-byes when Luke inevitably quits town. But the chemistry between them is too strong to contain in a rulebook. Are Luke and Tyler ready to risk their lives of independence for something more?