Reason to Believe by Gina Gordon: Ben and Grace have a raging attraction, but not only are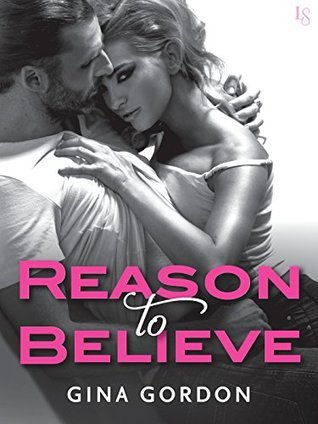 their best friends engaged, but Grace wants forever while Ben knows he'll never fit forever.
After leaving her escort service behind, Grace is now ensconced in the corporate world as a consultant. Even loving it, she fears the longer she works at a firm the more likely she'll meet someone who knows of her past.
Ben works for porn, first as a director, but now he's been promoted to VP, only he doesn't feel he's good enough for the role. His confidence worsens once he takes part in an internship program which forces him to speak to the university's film school. Needing help, Grace steps in, and they start spending a whole lot more time together.
An escort and a porn producer. It's definitely an unexpected romance, one which I didn't entirely expect to like. But I really did. Grace and Ben truly grew as individuals and as a couple. Both had their insecurities, and neither one truly trusted the other. It took a while to work through, but it was a fun journey to join. Especially when Ben went all protective. I just loved that so much.
They're absolutely perfect together. Sweet and sexy, it's a wonder they took as long as they did to realize how perfect they were for one another. And it was funny because both put a ban on their sex lives, yet they could only resist each other for so long. Even with all that I liked, it was hard for me to reconcile my heroine being an escort, or more accurately a high-class prostitute. Ben, too, working in porn and actually having performed for porn videos – and his continuously commenting on his vision in his directing of porn – was uncomfortable for me. So definitely, know that they both have odd pasts before you read it.
The second in the White Lace series, it can be read as a standalone, but I do know I wish I had the background of the first story. I'm definitely going to read the first, and any others in this series now though. I wholeheartedly enjoyed Reason to Believe despite my iffy start.
Book Info:

Publication: July 5, 2016 | Loveswept | White Lace #2
Grace Nolan is doing her best to conform to the rigid corporate world and put her history as a paid escort behind her. And even after seeing the worst that men have to offer, she still hasn't given up on finding love with the right guy. But right now, Grace could use a distraction to take her mind off her nonexistent love life. The trouble is, giving fashion advice to a former fling with rock-hard abs and a bad-boy attitude isn't exactly what she had in mind.
After working his way up from cameraman to vice president of an adult media company, Ben Lockwood is floundering. While he reevaluates his future, he asks the most poised and polished woman he knows to make him look respectable. Ben even swears off sex, which makes spending time with Grace pure torture. It's only a matter of time before they give in to the heat—but unless Ben confronts what his heart has been denying, they may both get burned.