Reclaiming His Ruined Princess by Caitlin Crews is the memorable conclusion of The Lost Princess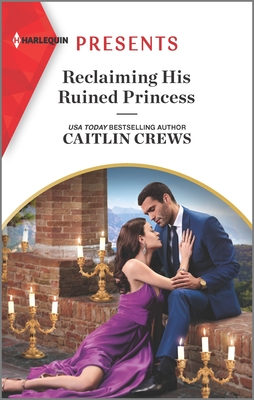 Scandal duet.
Once Amalia's mother, the Queen, learns her daughter was swapped at birth, she pretty much kicks Amalia out with a truck load of money. So the world is her oyster in one way but everything Amalia has worked for her short life and the only family she knew is ripped away from her. Seeking refuge at the one place she had a glimpse of true happiness and could be herself Amalia is shocked when the owner of the luxurious hideaway is expecting her. Joaquin has never forgotten Amalia. Joaquin loved Amalia with every single fibre of his being and his anger at her past treatment drives his emotions.
Family drama, revenge, passion and emotion is the reason I read Caitlin Crew's stories. It is done so, so well. I love the dark angry hero. I love the strong but broken heroine. There's so much of this drama in this story. Amalia has been basically turfed from her family. The one place her instincts sent her is a hostile location. The confusion of how her sworn enemy has won the heart of the rightful princess. I'm not sure I'd be strong enough to face everything Amalia has thrown at her.
Caitlin Crews is top class with her dark and passionate and she also does beautiful and emotional. And as the grey clouds clear the most unlikely people reach out Amalia feels like she's getting back into control with who she is and where to from here. But that doesn't help her heart and love for the the bitter and heartbroken Joaquin. Amalia fights to regain her identity and place in the world and she also fights for the love of her life but when is enough enough?
I really, really liked this story. It was fast paced, tied up a lot of unanswered questions in book 1 as well as being a solid stand alone story. Both characters were interesting and the challenges thrown their way were non stop. I especially liked how Joaquin's original punishment turned on its head at the end and I liked his redemption. A fantastic tale.
Having the pleasure to read both stories I feel this one had a more modern feel thank book 1. That's not a complaint, just noticing the differences between the two.
Book Info:

Publication: Jun 2022 | Harlequin Presents | The Lost Princess Scandal #2
When Amalia Montaigne discovers she's not the Crown Princess everyone thought she was, she craves solitude. The Spanish island where she had an illicit taste of freedom seems perfect. Until she realizes billionaire Joaquin Vargas is also in residence…and still devastatingly smoldering!
Joaquin never forgot the princess who left their chemistry behind. As for forgiveness? Impossible! Hardened by his childhood of abandonment, he's determined this time to claim then leave her. But Joaquin didn't count on the passion exploding between them—insatiable, inescapable and strong enough to ruin them both…