Annie West's  50th book, Reclaiming His Runaway Cinderella is a winner; be still my beating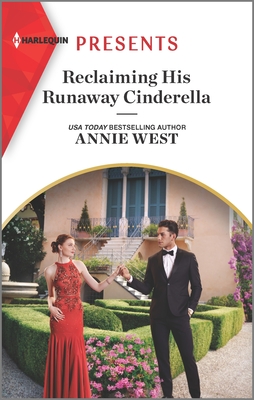 heart.
Newlywed Ida can.not.wait for her wedding night to commence. Floating happily to her tall, dark and handsome husband, Ida is stricken and heartbroken when her tall, dark and handsome husband Cesare harshly breaks it to her last thing he wants is a wife. She learns some stark truths about her grandfather and is mortified when Cesare metaphorically files her in the same trash can as her grandfather.
Interestingly Ida runs away, disappearing into the night for a very long time. When Cesare finally tracks her down they quickly discover he's not the person tracking Ida. Running with his gut instincts that Ida is legitimately terrified her grandfather will find her, Cesare whisks Ida out of the country. Together in their close proximity Cesare discovers nothing is as seems with Ida. Not only do they explore their mutual attraction, they learn about each other, they grow closer and they are basically the happiest they have ever been in a very long time. Of course the ugly drama that's been lurking in the background raises its ugly head and strikes hard setting up a very heart thumping dramatic conclusion.
I wouldn't change a single thing. Cesare is the perfect Presents Hero. Tall, dark, handsome, arrogant, impatient, powerful, but redeemable and likeable. He is also patient, loving, passionate, heroic (trust me on that one). Ida is brave, beautiful inside and out, loving, brave (yes repeatedly), just really likeable. I loved the second chance mixed with close proximity aspect. I loved the drama of Ida's grandfather and his henchman. I loved the angst, the love, the instinctive way Cesare acted despite his initial feelings. I loved the growth of the two characters together and Cesare's kindness. I loved the dramatic conclusion and the epilogue was lovely.
Congratulations Annie West on your 50th book. I haven't managed to read them all yet but I've read quite a fair few and I am blessed with a few autographed copies. I adore your storytelling, love your newsletters and couldn't be happier for you. I look forward to the next 50!
Book Info:

Publication: November 2022 | Harlequin Presents |
After years of searching, Cesare Brunetti finds his wife, Ida, cleaning homes to make ends meet. The Cinderella heiress fled mere hours after their vows, even though he was the one blackmailed into the convenient union!
Cesare intends to finalize their divorce. Yet he hadn't counted on discovering Ida's total innocence in their marriage sham. Or on the attraction that rises swift and hot between them beneath the Tuscan sun… Before they say goodbye for good, dare they indulge in the wedding night they never had?