The Secret She Keeps by HelenKay Dimon is the second book in the Whitaker Island series. Connor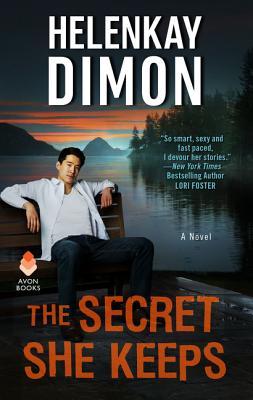 Rye is the brother of the hero from the first book, Her Other Secret. While this can be read as a standalone, I think it would work better if you read the books in order. The death of their sister is glossed over in this book, but it's covered more in the first book. Also, some things that happened in the first book are briefly mentioned in this one. Reading it in order will give readers a little more of what happened to lead Connor to Whitaker Island.
After the murder of his sister, Connor has carried around the guilt the he couldn't save her. He buries himself in his work, resulting in his family making him take a forced vacation to his brother's cabin on Whitaker Island. His first night there, he gets attacked in the cabin.
Maddie Rhine feels bad about attacking Connor, but it was the only way she could get out of the cabin, which she was scoping out as a safe house. Maddie is the island's recluse, for good reason. After leaving the Witness Protection Program, she needed to go somewhere safe. Whitaker Island, known for being the place to go when people want to run from their troubles, seemed like the perfect place. But when she starts receiving threatening letters, and the activity increases, Connor and Maddie strike up an unlikely friendship. For Connor, it's about protecting Maddie, which he couldn't do for his sister. For Maddie, it's finally feeling like she can let people in and know who she truly is.
Both Connor and Maddie are sympathetic characters. Maddie had been forced to live in hiding simply because she found something and witnessed something she wasn't supposed. Connor doesn't deal with his feelings about his sister's murder; instead, he hides behind his work. By helping Maddie, he finds a sense of purpose and a way to make up for not being able to help his sister. He also finds the strength to finally acknowledge his feelings.
I really liked Maddie and thought she developed nicely throughout the book. She starts out as a recluse, but spending time with Connor helps her open up, not only to him and her friend, Ben, but to the other inhabitants of the island. It also gives her the confidence to take a stand against the threats and take back control of her life.
I enjoyed the suspense of the story, but I felt a little disappointed by the culprit. I felt like the reason he targeted Maddie wasn't really clear. There were other people he could have went after, so why specifically her? I also suspected early on who the culprit was. These things didn't take away from my overall enjoyment of the book though.
The Secret She Keeps has realistic and sympathetic characters readers can feel for and relate to, as well as captivating suspense and a bit of mystery thrown in. The Whitaker Island series just keeps getting better, and I'm looking forward to seeing what happens next.
Book Info:

Publication: December 30, 2019 | Avon | Whitaker Island #2
Connor Rye seeks solace on remote Whitaker Island. When his first quiet evening ends with a blow to the head, it's clear that nothing—and no one—is as it seems. Still haunted by his sister's murder, he's buried himself in work while trying to hold his family together. Now, when he has a minute to breathe, he knows better than to get involved with a stranger, but it might be too late to keep his distance.
For years she's pretended to be someone else, but Maddie Rhine is done living in the shadows. Old habits are hard to kick however, and when her past follows her to Whitaker she's forced to hide once more. Except with Connor. Effortlessly sexy Connor makes it difficult to ignore him. He sees right through her…and senses her fear.
Someone is watching her. And waiting for the right moment to strike. This time Connor vows to be ready.