In Redeeming the Billionaire SEAL by Lauren Canan, Navy SEAL Chance is home on the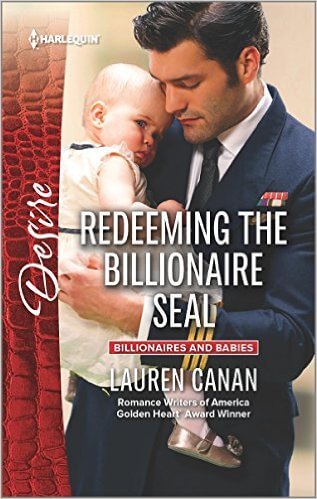 ranch again after 12 years away. A lot has changed in the time he's been gone. His family, the loss of his best friend, and most of all Holly. His friend's little sister is all woman now, and one he finds himself very attracted to. Holly has her priorities. Her niece who she's raising and her practice as a veterinarian. Chance's surprise return to town thrills her in unexpected ways…and as much as she'd like to have more than friendship, she knows he won't be staying around.
War has scarred Chance. It has left him guilt ridden, with nightmares, and believing that there can be no happy ending for him. He doesn't think he is what Holly needs, and he doesn't think what she could offer is what he'd want. As Holly and Chance come together and get to know each other as adults, feelings grow and chemistry sizzles…can there be more for both of them than either believed?
I really liked Holly and Chance! I liked how Lauren brought them together as adults, and I liked that they had a background of friendship even if it was when they were much younger. That they knew each other made their relationship growth realistic and so heart warming. The ups and downs of this new relationship was very emotional, and there are all kinds of bumps in the road that Holly and Chance will have to navigate if they want to take the chance. Their characters are well developed with good depth. There is a lot going on under the surface, especially for Chance. For me this made them believable and very human as my heart ached, hoped, and loved for them. I really felt that Holly and Chance were good for each other, even if they didn't realize it. I wanted them to have happiness together, and I enjoyed going on this journey with them. The attraction and connection between them is great!
Family dynamics are a strong part of the plot, and this worked well for Redeeming the Billionaire SEAL. I also liked the few unexpected turns in the plot that kept things a bit edgy at times!
I enjoyed losing myself in this well paced book, and would recommend it to any romance reader.
Book Info:

Published: June 7th 2016 by Harlequin Desire
Can a billionaire SEAL find love in the arms of a hometown girl?
When navy SEAL Chance Masters returns to his Texas ranch, he can't wait for his next assignment. Civilian life doesn't suit him anymore. But then he runs into Holly Anderson. The young girl he remembers is all grown up and raising her baby niece.
Soon Chance gets close to Holly and the child—too close. The situation sends up red flags; it feels like family. After what he's seen in the line of duty, Chance can't let himself get attached. But will Holly teach him that you can come home again?