In Redeeming the Rebel Doc by Susan Carlisle, with the hospital needing some much needed positive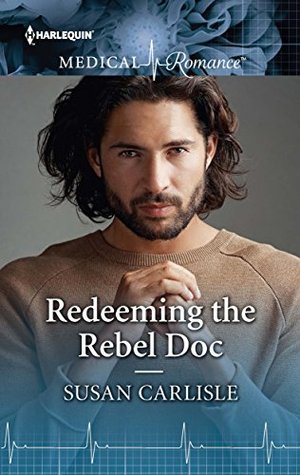 publicity after the year-long legal battle Rex Maxwell has faced when a patient died on his operating table, Rex finds himself partnered with PR executive Tiffany Romano. However, although Rex reluctantly agrees to the situation, there are some things he won't do for the sake of improving his image. Will Rex be able to convince Tiffany to give him a chance, or will they both walk away from the other to keep from getting hurt?
"Now I really feel bad," he said over his shoulder as he headed to the vending machines.
"Don't. I've learned a lot more about you today than I ever would reading my research," she said across the room.
"I hope it was positive." He put his money in and made his choices.
"If you promise not to remind me I said this, I happen to be impressed. The wild, unconventional, push-the-limits doctor you'd have the world believe you are actually has a really big heart. And a nice bedside manner as well."
Ms. Carlisle really impressed me with this story where the surgeon hero is ready to get back to the top of his game after a year-long fight against a lawsuit; the heroine is determined to do anything she can to get the promotion she wants and hopefully help the hero's reputation as well as that of the hospital; the dialogue was a wonderful combination of intense moments due to the main character back stories as well as the medical emergencies the hero tends to and fascinating banter that me enjoying this couple's growing relationship. Since they start out as enemies, but find something in each other that makes them begin to become partners, even though the hero doesn't want the sort of publicity the heroine wants for him. He doesn't need to be in the spotlight to prove he does whatever it takes to save a life.
Both the main characters were incredible and very entertaining due to their intense back stories that make them wary of putting their trust in others, especially since the heroine doesn't trust any in the hero's profession after what happened to her family. Moreover, the hero is a very good doctor that loves what he does, which is proven by how good he is with his patients. He's also confident in his skills as a surgeon and I liked how determined he was to win over the heroine, which isn't easy to do because the heroine wants to keep her job and get her promotion and fraternizing with clients is frowned upon. Yet, how can she possibly resist the intense chemistry that bounces between them?
She held the handle of the door. "You do know this isn't a motorcycle?"
He grinned. "It's almost as good. Drives like a go-kart."
Tiffani put a hand on the edge of the seat. "Great. Now I'm riding with a daredevil."
"Just sit back and enjoy the ride," Rex said. "I've got this."
"I hope those won't be famous last words." She chuckled.
While the heroine, she's determined to do a good job, but she faces a tough task with the hero being unwilling to bend as much as she likes when it came to her ideas. Moreover, I loved her ideas to help the hero and the hospital's reputation get back to where it once was, even though the hero's work as a surgeon speaks for itself, considering the amount of lives he's saved. Yet, what I liked most of all about the heroine was that she was willing to take a chance on the hero, even though she hasn't had the best luck with relationships and getting involved with the hero could have disastrous consequences for her.
Overall, Ms. Carlisle has delivered a wonderful read in this book where the main characters have plenty of chemistry; the romance was delightful and had me loving these two together; and the ending had me worried for this couple's happy ever after because of what happens between them to cause their relationship to awry, yet I liked how the pair wanted to heal from the hurts of their pasts by finally facing them and then how they were both determined to make things right between them to be together. Really, it was heart-warming and had me crying happy tears because these two are meant to be. I would recommend Redeeming the Rebel Doc by Susan Carlisle, if you enjoy the enemy to lovers trope or books by authors Becky Wicks, Amy Ruttan, Lucy Ryder and Tina Beckett.

Book Info:

Publication: February 20th, 2018 | Harlequin Medical |
She was hired to rebuild his reputation… But will this doc be too hot to handle?
After successfully fighting a year-long lawsuit, handsome, rebellious surgeon Rex Maxwell is ready to get back on top of his game! So when buttoned-up but beautiful PR exec Tiffani Romano insists on making him the center of his hospital's campaign, he reluctantly agrees. And though she tries hard not to let him, Rex is determined to get under her skin…