In Things to Do When It's Raining by Marissa Stapley, Young love is often fraught with drama but the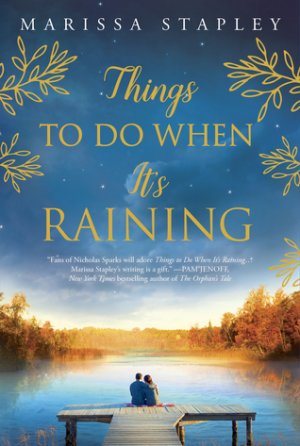 relationship Mae Summers and Gabe Broadbent built out of their childhood friendship was something spectacular. Until it all ended in a betrayal that broke both of their hearts. Almost two decades later, both of them are standing at the edge of some major life changes. And even though it's for different reasons, Mae and Gabe find themselves back in Alexandria Bay, facing their family homes that are filled with both good and bad memories along with a whole host of secrets and betrayals they'll be forced to acknowledge.
"I love you," she said.
"I love you, too, Mae. I always have."
She made a vow to herself in that moment: This is not my first love; it will be my only love.
Neither Gabe nor Mae could have imagined the mess they would walk into back in their riverside hometown. Gabe's father's health is deteriorating at a fast pace, leaving him to handle his father's cabin and belongings on Island 51. And Mae's grandparents Lilly and George are in the midst of a break down in their relationship when truths from decades ago are revealed. As Mae sifts through her family's past and realizes that decisions made long ago are to blame for the end of her teenage romance with Gabe, she's not sure how to feel. Or to move on. Especially when it's clear that there is still as much affection and passion between them as there ever was. But is there too much water under the bridge for them to begin again?
"Don't say you're sorry and don't make me any promises. Let's just take things one day at a time."
They don't touch each other, not right away. They face each other, waiting to not be afraid. That moment never comes, so they reach beyond it.
"Forever," he says, holding her close. "One day at a time, forever."
Heartbreaking and poignant, Things to Do When It's Raining was about a family whose lies and cover ups were finally uncovered, leading to the fallout from their years of deceit.
'Some things are better kept secret. And some things are not; life's most difficult task is to know which is which.'
I enjoy a well written family drama with layers of secrets to dig through while getting to know the characters and their place within the family. That was definitely what happened here. As with a lot of these types of novels, there were flashback passages scattered throughout, explaining what each family member went through and why they lied–or even looked over a lie someone else made–which was absolutely intriguing. We also had the beautiful but sometimes violent backdrop of the St. Lawrence River in upstate New York which played into the story quite a bit. But it was the choices each person made that I thought was the most compelling element.
Marissa Stapley did a fantastic job creating imperfect, relatable characters who all made mistakes. Every single one of them made some doozies. It started with Mae's grandmother Lilly–and kind of ended with her in her later years, actually. The things she did and covered up over time affected her husband George, their daughter Virginia, and then Mae's relationship with Gabe in their teens. It was difficult at times to like some of the cast, Lilly included. I knew (most of) their choices were made out of love but I'm not a fan of lying or manipulating in real life so even in a book it gives me pause.
All four major characters: Lilly, George, Mae and Gabe were at a crossroads of sorts in their lives during the present day. My heart definitely went out to all of them over what they had to overcome. I'll admit I'm a sucker for a second chance romance so Gabe and Mae's portion of the story, particularly, held my attention. And, yes, I wanted to rail at them a few times for being selfish and not communicating, but given Gabe's abusive childhood and the hurtful things in their own past together, I got why they had to learn to trust each other again.
The sadness of loss paired with the hope of reunited love was just part of the reason why Things to Do When It's Raining tugged at my heartstrings. With a stunning epilogue that had the story coming full circle, I think women's fiction fans will embrace this story wholeheartedly.
Book Info:

Publication: Published February 6th 2018 | Graydon House |
Two families, three generations and a lie that almost destroys them. Is their love strong enough to heal old wounds?
Mae Summers and Gabe Broadbent grew up together in the idyllic Summers' Inn, perched at the edge of the St. Lawrence River. Mae was orphaned at the age of six and Gabe needed protection from his alcoholic father, so both were raised under one roof by Mae's grandparents, Lilly and George. Their childhood friendship quickly developed into a first love–a love that was suddenly broken by Gabe's unexpected departure. Mae grew up, got over her heartbreak and started a life for herself in New York City. After more than a decade, Mae and Gabe find themselves pulled back to Alexandria Bay. Hoping to find solace within the Summers' Inn, Mae instead finds her grandparents in the midst of decline with their past unraveling around her. A lifetime of secrets stands in the way of this unconventional family's happiness. Will they be able to reclaim the past and come together, or will they remain separate islands?
From the bestselling author of Mating for Life comes a powerful story about guilt, forgiveness and the truth about families: that we can choose them, just as we choose to love.