In Midnight Surrender by Donna Grant, Rennie lives a life of relative isolation on property on the Isle of Coll left to her by her aunt. Every time she thinks of selling the property and moving on, something stops her. She's not sure why she hasn't left, but she feels something is holding her there. Now it is getting close to Christmas, and Rennie wants a wish for Christmas instead of a present. She is feeling lonely and wishes for someone to spend the rest of her life with. But even with this wish she thinks "It was better that she was alone. Then she didn't have to explain the odd things she could do just by thinking of them." Or the visions people got after touching her. Rennie is a Druid. But Rennie has no idea how powerful she can be or the extent of her legacy.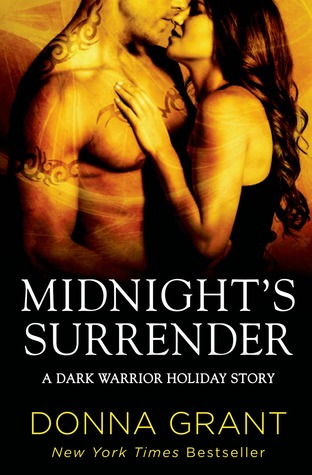 Dale, a Warrior, has followed the feel of magic to Coll. Although Dale believes his past and future will make him forever not good enough for someone like Rennie, he is still drawn to her. Soon Rennie and Dale fine each other impossible to resist and they both fall hard and fast. But with who they are can they even have a future together? What can become of a Druid and an immortal Warrior?
With danger close by, they are confronted by evil and Rennie threatened. Will either of them have a future at all let alone together? Will Rennie have a chance to realize her legacy before it's too late?
In the short time I came to know her, Rennie came across as a strong, independent woman who I really liked. She has not moved on from Coll and seems to know the reason will come to her soon. She is cautious, but when she meets Dale she feels something for him…even after she knows who and what he is. She has taken the lessons learned from her aunt to heart. Dale is a strong Warrior who would like nothing more than to have the god within him bound so that he can be mortal again…but that can never happen, can it? Because of what he's done, what he's had to do, Dale doesn't think he deserves happiness or Rennie. Even if he can't resist her.
Midnight Surrender was a well paced novella that is a quick but not rushed, intriguing read. It can be read as a stand alone outside of the Dark Warriors series (I have not read any of the other books in this series), but I think I would have had a better feel and appreciation of the novella if I had read the other books. Donna gives you some characters that you will love as well as fast paced action and suspense with entrancing descriptiveness in Midnight Surrender.
I'd recommend this to any paranormal romance reader looking for a quick, fulfilling read…especially if you've read other books in this series.
Book Info:

Published November 5th 2013 by St. Martin's Paperbacks | Dark Warrior series
Dale has been on the run – on the run from himself and the demons that haunt him. However, when he comes across a stunningly beautiful woman he cannot resist, he knows that he must do whatever it takes to possess her. She is a Druid with secrets of her own, but he is drawn to her like no other. Even when danger closes in around them, Dale knows that the true threat is to his very soul, which he will sacrifice in order to save her.