In Rescued by a Stranger by Lizbeth Selvig, Jill Carpenter's day just keeps getting worse as she sits in a ditch, stuck in her vehicle aptly named The Creature. Then Chase Preston comes to her rescue while passing through town. Jill takes an instant shine to him but knows it can't go anywhere.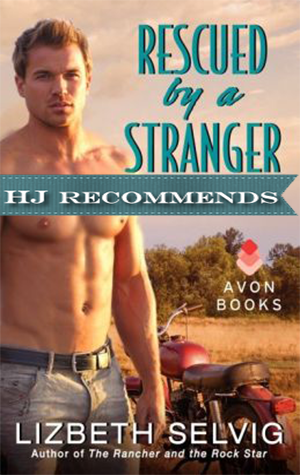 Plus her life is crazy enough without the kind of trouble Southern charmer Chase would bring.
"If I were to kiss you right now, would it be too soon?"
Her eyes flew open, and she searched his shadowy eyes, incredulous. "You're asking permission? Who does that?"
"Seemed like the right thing."
"Well, permission granted, now hush."
Against her better judgement, Jill allows Chase to take her into town and he somehow works his way into her life and the goings-on in her hometown as well over the next several weeks. It's hopeless to try to deny her feelings as they spend more time together. But Jill at least wants to find out what Chase is running from back in Memphis. Will she be able to get the truth out of the handsome traveler or will he never let her in completely?
'Chase lived in a permanent state of anticipation when Jill wasn't around. When she was, he lived in a permanent state of war with self-control.'
Chase Preston didn't expect to rescue a lovely young woman while motoring down the highway, but he can't complain the more he gets to know Jill. She's everything he would look for in a companion, if he were looking, that is. His quest to outrun his demons is exactly why he shouldn't get involved with her but his heart and body won't pay his mind any attention. When Chase chooses to keep part of his past a secret from Jill, he may pay dearly for not being completely upfront and lose the best thing he's ever had in his life.
"You fell out of that car window and kind of into my heart."
Rescued by a Stranger is one of those contemporary romances that just hits all the right notes for me and better yet, it has a truly sigh-worthy HEA. I felt the pace of the writing was perfect and loved that we get to see both Jill and Chase's pov, which was very helpful pinning down their emotions.
Lizbeth Selvig has given us flawed but genuine characters in small town Kennison Falls, Minnesota. I found that I loved and connected with the secondary characters as easily as I did with our protagonists. One of my favorites was curmudgeonly old Robert McCormick. I don't want to give away too much, but he isn't exactly who he seems, much to the surprise of Jill and Chase.
There was an easy camaraderie between Chase and Jill from their very first (epic) meeting. They had an instant attraction but their romance is definitely a slow-burn. I could relate quite easily with Jill. She's from a small town and is a people-pleaser which creates some issues in her life. Okay. A lot of issues. And how could you not fall for Chase's Southern charm? He tries so hard to do the right thing but it seems like luck just isn't on his side most of the time.
If you get a chance, please check out Rescued by a Stranger. Hopefully you'll fall in love with these wonderful characters, and a heavenly dog named Angel, just like I did!
Book Info:

 HJ Recommends
Published October 1st 2013 by Avon Impulse
She's a woman full of dreams.
When a stranger arrives in town on a vintage motorcycle, Jill Carpenter has no idea her life is about to change forever. She never expected her own personal knight in shining armor would be an incredibly charming and handsome southern man—but one with a deep secret.
He's a man hoping to outrun a tragedy.
When Chase Preston jumped on his motorcycle to escape his wounded life, he didn't expect the perfect woman to fall into his arms…literally! But though he can't deny his feelings for the sweet and beautiful Jill, he doesn't see any way he and his mistake-filled past will fit into her bright future.
Falling in love may require more than either can give.
The longer Chase stays in Kennison Falls, the more deeply Jill and the people of her home town pull him in. The more Jill discovers heroic qualities in Chase, the more she wants to find a home in his arms—if only he would trust her with the truth. But will truth tear them apart when Jill's dreams start coming true and Chase's past finally returns to haunt him? Or, can they get beyond dreams to find the love that will rescue their two hearts?