Tempting the Cowboy by Elizabeth Otto: For being close to only thirty years old, former police officer, wife and mother, Rylan Frederikson has experienced a lifetime. She grew up happily on a ranch in Wisconsin and eventually migrated to the city of Madison, became a police officer and married a judge. Her husband was a user, and exploited her heroic actions to better himself politically. He was also a philanderer, blackmailer, and drunkard,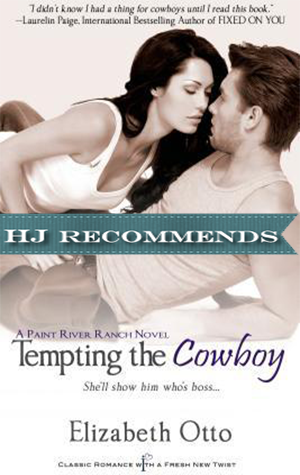 which naturally caused Rylan's life to be miserable, heartbreaking and tragic. She needed a new life and a new occupation, where people did not know about her past. Rylan was able to find a job as an executive housekeeper with the Paint River Ranch in the town of Greenbrook, Montana.
After his caustic father died, Cole Haywood and his brother Tuck, took over the Paint River Ranch full-time. Cole is a single, manly cowboy with a loving and sensitive side. His four year old daughter Birdie is the highlight of his life. Maeve, Cole and Tuck's mom, is a nurturing grandmother that looks after Birdie most days. Her poor health is a major concern for her sons.
Rylan's arrival brings a new dynamic to the ranch. She is well liked and does a good job. Her love of the ranch is contagious and brings new life into her soul and the Haywood household. She and Cole share a scorching chemistry, unlike anything else they have experienced before. For Rylan, loving Cole is a non-issue, but sharing her heart with his daughter is an impossibility, due to the recent tragedy in her life. Cole's ex-wife did a number on him, so he is extremely skeptical about forming a new relationship for himself as well as for Birdie.
Overtime a short period of time, Rylan and Cole become more than friends, however an accident at the ranch pulls them a part temporarily. The combination of Birdie's acceptance, Maeve's kindness, and Cole's love creates the family Ryan so desperately seeks.
Wow, this is an amazingly heartfelt read. While devouring this story in less than a day, I experienced every emotion known to woman; I laughed, cried, got angry and even panted from the steam created by Rylan and Cole. Their magnetism was over the top and the heat they were able to create while on a horse was imaginative and sizzling. I loved all the characters and their connection to each other was real and undeniable. Ms. Otto's attention to detail made me feel like I was watching a play on Broadway, absorbing everything going on in my field of vision. This is a well-written, emotional romance that should not be missed!
Book Info:

HJ Recommends
Published October 14th 2013 by Entangled: Indulgence
After taking a job on a quiet Montana dude ranch, ex-cop Rylan Frederickson finds herself surrounded by unbelievably sexy cowboys. Too bad the one she wants is her boss…and the single dad of a four-year-old. It doesn't matter anyway, because after a recent tragedy, there's simply no more room in her heart.
Letting a new woman into their life is the last thing Cole Haywood wants for him and his daughter, Birdie. But as Rylan's presence at Paint River Ranch breathes new life into his family he can't ignore his growing attraction.
When the sparks between them turn into fireworks in bed, Rylan's torn between the family she's lost and the one she may have found. Now she must decide if something that feels this good is worth the risk.