In Rescuing the Receiver by Rachel Goodman, Colorado Blizzards wide receiver Chris Lalonde finds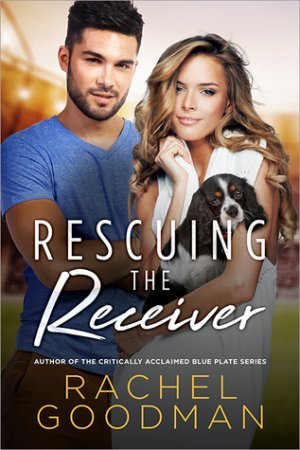 himself in trouble when a drug test comes back positive. It doesn't matter that the he took the drugs before they were prohibited by the NFL, and that he hadn't taken them since they were banned. Now he finds himself being sent to volunteer at an animal shelter by the owner of the team in order to clean up his image. Hazel Grant initially doesn't want him there, thinking he's just another cocky football player. But as Chris demonstrates there's more to him than meets the eye, will she be able to look past her own issues and let him into her heart?
I'll start by saying I loved the cover, but I may be biased since I have a tri-colored Cavalier King Charles Spaniel myself. Some of my favorite moments in this book are of Chris singing Disney songs to Olive, the Cavalier, to coax her out from under her bed. The pair had an instant bond and it was adorable.
Sadly, I had a hard time with this book. I found myself putting it down several times and then returning to it later. I surprisingly liked Chris the most out of all the characters in the book. I think part of my problem was that I didn't particularly care for anyone else. Let's start with Hazel. I found her overly judgmental. She made assumptions about Chris before she even met him. Then, no matter how hard he tries, she finds something to hold against him. Chris's argument that he took the drugs when they weren't banned fell on deaf ears as she continued to insist that he was at fault, even after a harsh punishment from the NFL that didn't seem fair. Yes, he made the choice to do the drugs, but once they were banned he stopped. But it was like she didn't given him points for doing that. The way she acted, one would think he was still using the drugs even though there were banned. For someone who was into giving animals a second chance at happiness, she certainly didn't extend the same courtesy to humans.
Then there's Logan, his former teammate, best friend, and fiancé of his sister. Logan is now a broadcaster, and after the drug use was revealed, before even talking to Chris, he had no problem going on air and making negative comments about him. And when the punishment from the commissioner was announced, he basically told Chris to suck it up and accept it even though it really wasn't fair to him. I understood his point that records weren't the only thing that make up a good career, but it felt like he could have been a little more supportive of Chris instead of kicking him while he was already down.
Even his teammates treat him like a pariah after the initial drug test. These are the people who are supposed to have his back. While at times they do, at other times they don't, which was disappointing to see.
I loved the angle of having Chris work at the animal shelter. I loved Chris and his interactions with Olive, as well as his attempts to help the shelter. Unfortunately, Hazel and other characters in the book just made it too difficult to really enjoy it.

Book Info: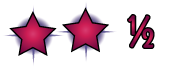 Publication: June 11, 2018 | Pocket Star | How to Score #2
Caught between the media's crosshairs and his own questionable decisions, Colorado Blizzards wide receiver Chris Lalonde has a choice: watch his storied career burn to the ground or rehab his bad-boy image at the local dog shelter. His goal: rescue the oldest, saddest, most mange-infested canines in the hopes that the pups can rescue his reputation in return. What he doesn't expect? Hazel Grant, shelter owner, do-gooder, and beautiful all-American girl next door. She has no time for Chris's excuses, antics, or cheesy pick-up lines…challenge accepted.
Hazel Grant can't believe she got saddled with Denver's cockiest—and most eligible—football player for a volunteer—she needs people she can trust and count on, not a man packaged in abs and wrapped in confidence who thinks scoring touchdowns is an honest day's work. But since the shelter is in need of some serious TLC, she can't afford to turn away help.
Chris and Hazel get along like cats and dogs. But when it comes to Chris Lalonde, there's a new surprise around every corner, and Hazel finds that, like the pups she cares for, Chris has hidden depths, secret talents, and meets every test she throws at him. As the pressure mounts to save the shelter—and Chris's career—lust bubbles to the surface, and suddenly love becomes anybody's game…