In How to Keep a Secret by Sarah Morgan, Lauren may have left her family home in Martha's Vineyard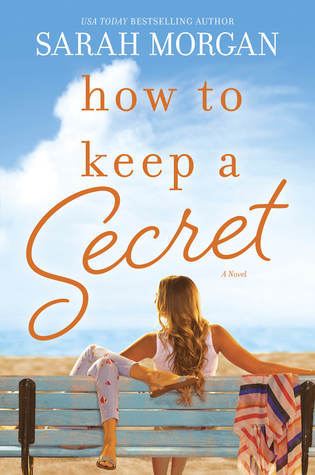 behind well over a decade ago to raise her daughter Mack in London, but she never thought it would be a tragedy that would bring her back to the island. Memories both pleasant and unwanted bombard Lauren when she arrives grief-stricken and with no idea what to do next. She's thankful for her younger sister Jenna's compassion and her shoulder to lean on. But her strained relationship with her mother Nancy is something she'll need to sort out–on top of dealing with her struggling teenage daughter's emotional outbursts.
"Mom–" Lauren's tone was sharp. "–we've all tried the approach where we keep things to ourselves to protect each other, and where has that gotten us? From now on everything is out in the open and we'll deal with it together."
Elementary school teacher Jenna is doing her best to be there for her big sister in her time of need. So it makes her feel terrible when she finds herself worrying over her own issues of trying to get pregnant and keeping a brave face on for her husband Greg when all she wants to do is sob. Their relationship has always been an easy one. But with Jenna becoming mildly obsessed with getting pregnant, there's a disconnect between them that frightens her. Having Lauren around should give her someone to vent her feelings to. Instead, she worries it might add even more strain to her sister's already heavy load.
"If I could have chosen my sister, I would have chosen you."
Hearing those words from their childhood tugged at Jenna's heart. "We'll get through this."
"I hope so."
Nancy has had a lot of time to reflect on the things she did wrong as a mother and as a wife since her husband passed away about five years ago. And there's a big secret in her married past that she's never told her daughters. One that so far she's kept under wraps. But with Lauren and Mack staying with her, and Jenna hanging around the house as well, Nancy knows the truth will eventually come out. That's why she's pretty shocked to find out that she's not the only one hiding something. That her girls also have some troubles they've held back from her. And Nancy is going to take the opportunity to be there for them the way she should have been when they were younger.
'There was nothing in the world better than knowing you were loved, and nothing that made you appreciate that gift more than seeing someone who had lost that.'
How to Keep a Secret was an affecting and moving story of family, loss, strained relationships, and–as the title implies–secrets. Filled with life lessons learned the hard way, Sarah Morgan's newest novel is sure to be a crowd-pleaser that readers will certainly relate to.
"Welcome to adulthood… It's messy, complicated, the pieces don't fit and the picture rarely looks the way you want it to. It's called real life."
I've read and loved many of Sarah Morgan's romances so I was excited to read this book as it is actually women's fiction/chick lit. And just like I knew would happen when I started reading this, it didn't disappoint in the least. The storyline was tangled, bittersweet, and engrossing. And by pairing that up with characters who were complex and engaging, it really had me flying through the pages. I truly do think there will be something within this book that each reader will be able to connect with where our main characters–Lauren, Jenna, Mack, and Nancy–were all at different points in their lives. It wasn't just the age differences: from Nancy in her sixties down to Mack in her mid-teens. It was the struggles they had in each of their personal lives as well as how secrets from the past caused more harm than it did shield their loved ones from the truth.
Family relationships are obviously complicated and I feel like Sarah Morgan did a convincing job with this cast. Their interactions reflected the true emotions we all go through, good and bad, and how they affect everyone around us. I won't give away the big secrets of course, but a lot of it surrounded Lauren, Mack's mom, as we slowly learned about decisions she made starting in her late teens up to present day. Although it was heartbreaking what Lauren was faced with, she had an inner strength that really wowed me. She was a great mum to surly Mack who I did end up liking quite a lot in the end. And Lauren was a good big sister to Jenna, who desperately wanted to get pregnant and constantly had that on her mind. Add in their mom Nancy, a famous painter who hid her own reasons as to why she had been an absentee mom, and it was chaos with a whole maelstrom of emotions and tough situations to overcome.
How to Keep a Secret was a shining example of how women's fiction should be written. Sarah Morgan won me over with this family in crisis who didn't realize how much they needed to reconcile their past, or how satisfying their lives would become once they did so.
Book Info:

Publication: July 10th 2018 | HQN Books |
When three generations of women are brought together by crisis, they learn over the course of one hot summer the power of family to support, nourish and surprise
Lauren has the perfect life…if she ignores the fact it's a fragile house of cards, and that her daughter Mack has just had a teenage personality transplant.
Jenna is desperate to start a family with her husband, but it's… Just. Not. Happening. Her heart is breaking, but she's determined to keep her trademark smile on her face.
Nancy knows she hasn't been the best mother, but how can she ever tell Lauren and Jenna the reason why?
Then life changes in an instant, and Lauren, Mack, Jenna and Nancy are thrown together for a summer on Martha's Vineyard. Somehow, these very different women must relearn how to be a family. And while unraveling their secrets might be their biggest challenge, the rewards could be infinite…
Heartwarming and fresh, Sarah Morgan's brilliant new novel is a witty and deeply uplifting look at the power of a family of women.