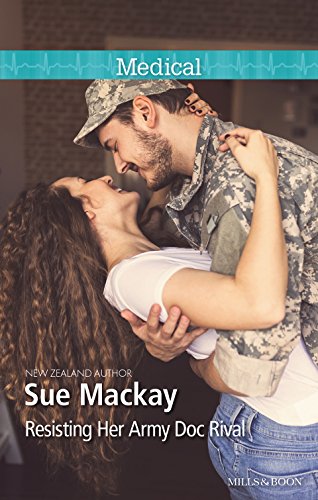 In Resisting her Army Doc Rival by Sue MacKay , Madison Hunter finds it hard to get close to people, especially men, after how her ex-husband treated her once he learned the heartbreaking truth about the scars she tries so desperately to hide. Yet, there's something about Sam Lowe, the gorgeous Army doctor she went to High school with and is now working alongside that makes her want to let down her guard. Except Sam has his own emotional wounds, and unless they can overcome whatever they've both been through together, then they don't stand a chance at the happy ever after they both deserve.
"You don't like silence?" So light and chatty. Nothing was rattling the man. So she tried a different tack. "Did you always want to be a doctor?"
"No. That came after the fireman craze at six, a cop driving fast cars at ten. I finally thought being a doctor would be cool when I was fourteen."
She huffed a lighter breath. So far so good. "Find me a small boy who hasn't wanted to do those things."
"Who said I was small?" he quipped. "What about you? A princess, a dancing queen, then a doctor?"
Ms. MacKay really impressed me with this book about a scarred heroine scared of giving another man a chance and a hero that is filled with so much guilt that he believes he doesn't deserve forever love. The way this story started introduced me as a reader to the heroine and her current assignment as a doctor working for the Army really well, and I couldn't wait to discover more about her when she comes face-to-face with the hero for the first time in this story. They have a history, having known each other in high school. She was the smart nerdy girl that seemed to always beat him in classes at school.
The dialogue was well-written and compelling and I enjoyed the characters back stories. They were intense with both Madison and Sam having gone through a lot. She's survived a horrible situation and the rejection of her ex-husband while Sam is filled with guilt over the death of a friend. Can they help each other heal from the hurts of their pasts? Will Sam be able to finally forgive himself over the loss of his friend before he loses Madison? However, there were some light-hearted moments between the hero and heroine that I absolutely loved, especially the way Madison surprises Sam with how talented she really is.
"I'll tell you something for nothing, Madison. When you were singing that first song the emotion that poured out of you, I've never heard anything like it. You had me in the palm of your hand. You could've done anything to me at that moment."
She'd sing it again – now. Definitely begging. "If only I'd known." She tried to laugh, came out with a squeak.
Sam managed better with a chuckle that didn't sound strangled. "I'm glad you didn't. I could've ended up looking foolish in front of the guys."
"And that matters?"
Both the main characters entertained me from start to finish with their back stories, what they go through in this book to achieve their happy ever after and the medical moments they have to attend to. Madison is quite popular on base being the new doctor and a pretty woman and she handles every situation nicely, except for when something reminds her of one of the most painful moments in her life. She's also strong and brave, considering everything she's overcome in her life and I liked that she was willing to give Sam a chance, even though she was hurt badly by her ex in the past.
While Sam, he's overcome a lot to get to where he is in his life. Becoming a doctor has been a huge accomplishment for him, and I liked how hard he works to help the people he does. He's good for Madison, just as she's good for him. Yet, in saying that, I could understand why he was so reluctant to get involved with her because he doesn't think he deserves to be happy after what happy to his friend. However, I liked how he finally overcame that obstacle by realizing that grief and guilt can't hold someone back forever.
Overall, Ms. MacKay has penned a delightful novel in this book where there were moments where I smiled and moments where I wanted to cry. The chemistry between these two was off the charts and I liked how their growing relationship developed, because it was palpable that they'd be good together, if only both could overcome their fears. The way this story ended was perfect with Sam finding it within himself to forgive himself for what happened in the past to his friend and I liked how he made things right with Madison. However, it was the epilogue that I loved the most, because of the surprise the heroine had for the hero. I would totally recommend Resisting the Army Doc Rival by Sue MacKay, especially if you enjoy the enemies to lovers trope or if you're looking for a good Medical romance that will keep you entertained from start to finish.
Book Info:

 February 20th, 2017 | Harlequin Medical |
Flirting with danger!
Infuriating, irresistible army doc Sam Lowe is the last person Madison Hunter wants to work with. He challenges her, and soon the only thing hotter than their rivalry is their growing chemistry!
But Maddy hides scars that tell a heartbreaking story, and Sam has his own emotional wounds. He's determined to take his heart with him when he leaves the army base, yet as he starts to see beneath Maddy's tough exterior, it becomes more and more clear that his heart belongs with her…