In Resisting Her Rebel Hero by Lucy Ryder, Dr. Cassidy Mahoney did not expect to land up in jail when she trades city life for a quiet mountain town. When she is called to the police station to treat one of the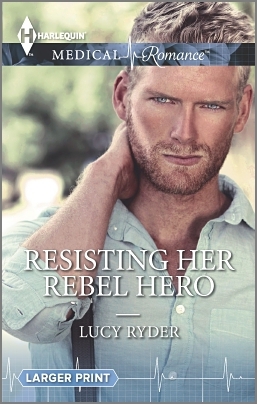 inmates, she does not expect her patient to be the notorious national hero turned rebel bad boy, Major Sam Kellan!
Sam might have enough testosterone to whip all the women of Crescent Lake into a frenzy, but Cassidy is determined to resist his charms—she can't risk her heart on another rebel! But with the shadows haunting Sam's eyes, a scorching hot, unforgettable kiss could lead to more than she's bargained for.
Resisting Her Rebel Hero is the sparkling debut title Lucy Ryder which makes me wonder why didn't she start writing sooner. It is written in a sexy manner with loads of oomph which makes even the most insignificant part of the story delightful. I loved how the novel started with the jail scene where the characters meet for the first time.
I did not have lot of expectations from Sam but he became my favorite part of the book. He is a almost doctor turned Navy SEAL rebel and bad boy with his share of emotional baggage. At the exterior he appears to a rebel bad boy but there is so much more to him inside. Cassidy is convinced Sam is all wrong for her and she sure should stay as far as possible from him but she is obviously proved wrong as Sam turns out to be perfect for her as the story progresses. The characters mainly have to deal with their trust issues and hold each other hands for a perfect HEA which they ultimately do in the end. The medical details also made my day along with the sexy characters and story.
Overall, Resisting Her Rebel Hero is an absolute delight to read because of the sexy writing and refreshing characters who leave their mark on every page .I was hooked throughout the story and I am sure everyone who loves medical romance would share the same sentiment after reading this.
Book Info:

Published April 2014 by Harlequin Medical | HJ Recommends
Everyone loves a rebel…
The county jail is the last place Dr. Cassidy Mahoney expects to be called to when she trades city life for a quiet mountain town. Especially when her patient is notorious national hero turned bad boy Major Sam Kellan!
Sam might have enough testosterone to whip all the women of Crescent Lake into a frenzy, but Cassidy is determined to resist his charms—she can't risk her heart on another rebel! But with the shadows haunting Sam's eyes, a scorching hot, unforgettable kiss could lead to more than she's bargained for