In Resisting the Single Dad by Scarlet Wilson, when Cordelia Greenway goes to pick up Dr. Gene Du Bois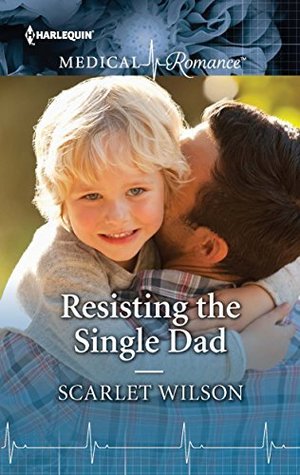 from the airport, she didn't expect his son would be with him. However, no matter how hard it is to deal with playing happy families, she's determined to make the best of the living arrangements, considering the pair will be staying with her. Will Gene be able to win Cordelia over or will their chance at happy ever after slip away?
The guy shrugged. "You're in Switzerland. I guess I can live with being mistaken for a woman."
She wanted to laugh out loud. There was no chance of this guy being mistaken for a woman. Not when he looked, smelled and sounded like that.
It's been a while since I've read one of Ms. Wilson's medical romances, but I so do enjoy her stories and this book was absolutely engaging from the very beginning because of what the heroine is going through with her medical condition. Will she be able to get her condition under control? However, it was from the moment the hero and heroine come face-to-face for the first time where this story really takes off, as their introduction had me laughing because of the wrong assumption the heroine makes that leads to a very interesting conversation between them.
As for the dialogue, it was intense due to the main characters back stories and everything these two go through to be together. Including whether the heroine can handle that her medical condition limits her and whether the hero can handle the fact that the heroine has an illness that could bring back painful memories of the past for him and his son because of how they lost the mother of his child. Moreover, the heroine is resilient, courageous and I loved how much of a fighter she is when it comes to her medical condition since things could turn bad for her if she's not careful. I also liked how dedicated she was to her career and that she would do anything to help someone, even though she feels hopeless at times because she can't help everyone. Yet, what I liked most of all was the growing bond between the heroine and the hero's son, which wasn't easy at first because having children of her own aren't on Cordelia's radar.
He didn't push her on the tone. He just leaned back in his chair. "I'm bringing out my secret weapon. I'm going to go full cowboy on her."
"What?" Several people in the restaurant turned around at the rise in her voice.
He laughed. "Yip. I'm wearing my Stetson tomorrow. Probably the boots, maybe even the jeans. What do you think?"
"You're serious?" She had the strangest expression on her face.
While the hero, he's confident, a good father and I loved how dedicated he was to his job, even though sometimes it isn't easy, especially when he has to tell patients something they won't like. I also liked how determined he was to win the heroine over and that he'll do anything to help her through the tough times if she'll let him in. Yet, what I liked most of all about the hero is the wonderful bond he shares with his son, which is proven by their love for one and other and the fact that they have their own little move that was so cute and had me smiling.
Rory wriggled out of his seat and Gene followed, picking up the bill from the table. "You know, everyone has a move, or a saying, something like that."
She put her hands on her hips. "They do?"
He nodded. Of course. Don't you?"
She frowned for a second. "I don't think so."
He nodded as he settled the bill. "Leave it with me. I bet you've got one. I'll figure it out."
Overall, Ms. Wilson has delivered a really good read in this book where the chemistry between this couple was strong and just keeps getting stronger the more they interact; the romance was sweet and had me liking these two together; and the ending had me cheering because both deserve this chance at forever, especially after everything they've been through in their pasts. However, what I liked most of all about the ending was the words exchanged between the hero and his son about Cordelia and then the heroine's conversation with the hero's son. Those moments brought happy tears to the surface because a child deserves a mom. I would recommend Resisting the Single Dad by Scarlet Wilson, if you enjoy second chance romances, the single parent trope, or books by authors Louisa George, Amy Ruttan, Caroline Anderson and Jennifer Taylor.
Book Info:

Publication: April 17th, 2018 | Harlequin Medical |
A doctor looking to cure his son…Does his own heart need fixing, too?
Dr. Gene Du Bois arrives at Geneva airport with more baggage than Cordelia Greenway expected—his adorable young son! She usually avoids reminders of the family she'll never have, but there's no escaping this devoted dad when they're working and living together. Gene's sexy Texas drawl soon weakens her defenses, leaving Cordelia wondering—could this little family be her future after all?