Truly A Match by Tamra Baumann: From a career woman to now balancing her legal career while raising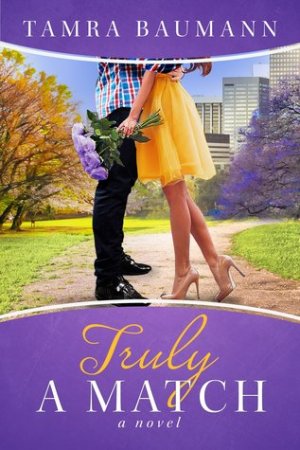 her eight month old twins by herself, Rachel has no interest in dating. She doesn't have the time, energy, or desire to have her heart broken again. She's smart, sassy, and has a hard time trusting men.
Marcello is a famous actor with the good looks, charm, and money that goes along with his lifestyle. He never dates anyone for long, but he does have a set of very loyal and dedicated people working for him that he treats like family.
Finally reaching his career goal shows Marcello just what he is missing by walking away from Rachel and their kids. While they've kept in touch, he needs more and decides to pursue her and earn back his rightful place in her and their kids' lives.
"I want my family back, Rachel. All of you. I promise I'll make the time and put you all first, if you'll give me another chance."
"Nothing's changed since we decided to part ways, Marcello." The sadness in her voice hurt his heart.
I changed. Now to prove it.
"You were right. I did put my career first. But after tonight, all will be different."
Rachel isn't easily impressed by money, gifts, or the trappings of his life. She's slow to trust and determined to protect her heart and their kids. Marcello is certainly persistent and very protective of his family. Rachel is more than capable of holding her own and willing to push Marcello for what she needs out of him and their relationship.
"Ten minutes?" He crossed his arms and raised a brow. "Seriously?"
She lifted her chin. "Wanna make a bet?"
"No. I never win when I bet with you. It's very annoying." He leaned down and kissed her. "See you in ten."
Truly A Match is a sweet, heartwarming second chance romance. Tamra Baumann created well matched characters and a sense of family. Ms. Baumann provided humor and strong relationships. Truly A Match can be read as a standalone in this series. Fans of Jamie Beck and Jules Bennett will enjoy Truly A Match.
Book Info:

Publication: April 12th 2018 | Amazon Digital Services | Rocky Mountain Matchmaker #4
Rachel Caldwell had never known a man who could make her weak in the knees. Until she'd met the most charming man in the world, Marcello. An Italian, dark haired, olive skinned, Hollywood actor who'd swept her away on luxurious getaways, and had accidentally given her the greatest gift of all—nine months later. Now that she's found the kind of love that never lets her down, Rachel is trading dating for motherhood. She's determined to be the best single parent she can be. Rachel shields her twins from the paparazzi who hound their famous father as strongly as she protects her damaged heart.
Marcello Romano has it all. He's living the life of the most sought-after leading man in Hollywood and has an Oscar nomination to prove it. But something is missing. And that something is his family quietly living in Denver. He made a mistake by letting fears from his grim past stop him from dropping to one knee and proposing the night Rachel told him they were having twins. Now, it's time to make things right. If that includes diamonds, Ferraris, or even puppies to sway the reluctant Rachel, he'll make it happen. He won't stop until he can convince her to take another chance on him. But if she finds out his secrets will she risk her heart again?