Return to Glory (Home to Glory #1) by Sara Arden is an intense book. It deals with PTSD and the toll it takes on families, friends, lovers, and on the victim itself. It deals with young fairy tail love that grows into a adult forever kind of love. It is hot, it is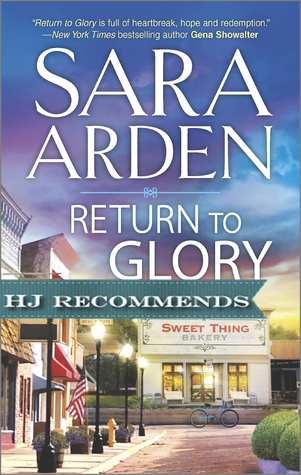 intense, it is sad at times, but in the end, as with everything there is a HEA.
Betsy Lewis has been in love with Jack McConnell since he saved her life after she almost drown as a young girl. Her young girl heart always knew that Jack was it for her. When Jack joins the Navy SEALS and leave Betsy with his dog tags and a promise to come home to Glory, Betsy knew that she could believe Jack, because Jack never lies. Years later, after a failed attempt at becoming a Chef in Paris, Betsy is back in Glory, running a bakery, and per paired to help Jack get his life back, while reminding him that her love for him is the one constant that has never changed.
Jack McConnell didn't want to come home. He was suppose to die, but the promise that he made Betsy pulled him through. Beaten, battered, and suffering from PTSD, the only solace that Jack can find is in the bottom of a bottle…..or is it? The more time that Jack spends with Betsy, the more he realizes that he wants to live, he wants to enjoy life, he wants a life with Betsy. But he knows that he is broken, and he knows that he might hurt Betsy, so he decides to push Betsy to follow her dream and in the process tries to save her from himself.
What I loved about Jack and Betsy is that their underlying relationship was built on a very strong, very solid friendship. They had known each other forever and it was this foundation that would see them through this story. Jack has some scary things that he needs to deal with, what will he do with the rest of his life, what will he do without being able to be a SEAL anymore? Can he have a life with Betsy or will he end up like his drunk father? Will he hurt Betsy even though he loves her, has loved her since the night he handed over his dog tags and his heart all those years ago? Betsy has things that she needs to come to terms with as well, her failure as a Chef, her fear of failing again, her uncertainty about pushing Jack to come back to the land of the living.
There is a section of this book that made me worried that Jack and Betsy would never get together, but alas, never fear, they get a beautiful HEA in the end. I would recommend this book to anyone that believes that faith, hope and love can truly conquer all. I gave this book 4.5 shiny stars.
Book Info:

Published August 26th 2014 by Harlequin HQN |  (Home to Glory #1)
In Glory, Kansas, the best bakery in three counties may not only bring together ingredients for sweet treats, but be the place where—through the powerful mix of friendship, community and a well-stocked kitchen—a wounded hero can forge a forever kind of love.
Jack McConnell's back in the hometown he left behind five years ago, battle-scarred and feeling like half a man. But Betsy Lewis only sees the hero who saved her life and set her heart on fire. Now she's burning to save his life in return. She'll use every trick she's got up her sleeve, from her generous natural assets to her talent for baking, to coax Jack out from the bottom of his whiskey bottle.
At first, Jack responds to Betsy like any red-blooded man would. He's always denied his attraction to the innocent girl he used to know, but he's returned to find Betsy's grown into a full-on woman with strength enough for both of them. Until Jack realizes the only way to conquer his demons and be worthy of the hero's mantle she's pinned to his shoulders is to save Betsy one last time—from himself.