Return to You by Samantha Chase: Selena faces going back to her hometown for her ten year high school reunion.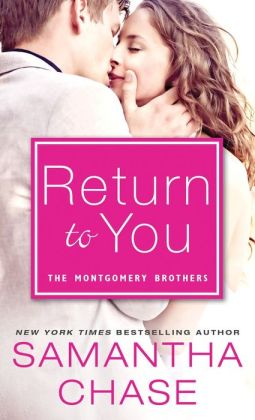 Selena is working as an event planner in North Carolina when her high school friend Jennifer convinces her to plan the reunion.Having left Long Island on bad terms, she is very weary of facing the past. The past, being James Montgomery, the boy who broke her heart.
James and Selena were once a happy couple full of dreams for the future. After Selena finds out she's pregnant, the couple get engaged. A tragic car wreck, caused by a drunk driver, leaves Selena unconscious for three days. She unfortunately, miscarries. Her parents, disapproving of James, lie and tell him she terminated the pregnancy. They also threaten to press statutory rape charges, he is twenty, she seventeen. He flees and the two haven't seen each other since. Ten years later, James, now a police detective, helps Jennifer with her stalker, precipitating a reunion between James and Selena. Jennifer and James' uncle William are willing to do what it takes to reunite them.
Return to You was fun and entertaining. There are many misunderstandings, lies, and communication problems and both Selena and James are stubborn. However, this never gets in the way of wishing them back together. The two had definite chemistry and I rooted for them all the way through. There is a great message of never giving up on dreams and love.
Return to You is my first read by Samantha Chase. I look forward to reading the next in the series, Meant for You. I recommend this to anyone who believes in second chances.
Book Info:

Published March 3rd 2015 by Sourcebooks Casablanca
She will never forget their past…
He can't stop thinking about their future…
James Montgomery has achieved everything he'd hoped for in life…except marrying the girl of his dreams. After a terrible accident, Selena Ainsley left ten years ago. She took his heart with her and she's never coming back. But it's becoming harder and harder for him to forget their precious time together, and James can't help but wonder what he would do if they could ever meet again.