Returning for His Unknown Son by Tara Pammi is a very enjoyable amnesia story which I thoroughly enjoyed and couldn't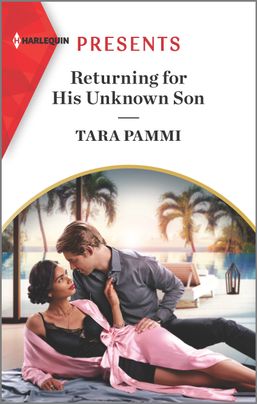 put down.
I love stories where the opening chapter launches right in and reading the descriptive words of Pree walking up her driveway in the rain after a failed date you just knew something unforgettable was about to happen. Caught up in a whirlwind of questions, feelings, past complications and a husband she thought had died, I page turned until there was no pages left to turn.
Christian returns to the one person who lived in his imagination and kept him going over the years until he was able to return home. Stunned to find he has a son as well complicates things more.
I adored this story. The amnesia was very cleverly done and the background complications of their marriage of convenience was explained well. Pree and Christian's love for each other shone through and I was on board all the way for how Tara Pammi was going to resolve everything, especially with the rocky road in the concluding chapters. I loved Christian's fight for his family and I loved Pree's determination.
I am loving the emotional the adventurous stories Jan 22 is giving me and I hope the theme continues into 2022. Highly recommended for anyone who loves emotion and drama.
Book Info:

Publication: Jan 22 | Harlequin Presents |
Priya's convenient vows to notorious playboy Christian Mikkelson led to unexpected yet unparalleled pleasure. The next day, a plane crash left Christian with no idea who he was or that Priya was pregnant with his child…
Eight years later, their worlds crash back together…as Christian returns to learn that he has an heir and that Priya wants to end their marriage deal. Refusing to let his family slip through his fingers, he has an electrifying counterproposal: three months of living together as husband and wife!