In Running Wild (Wild #3) by K.A. Tucker, Complicated seems to be the only type of romantic relationship Alaskan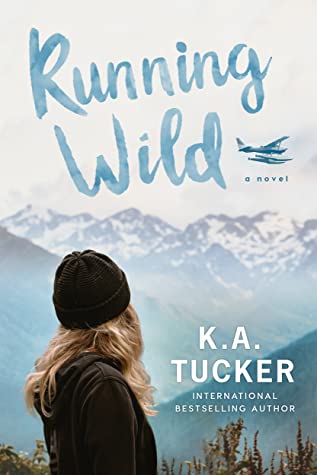 veterinarian Marie Lehr knows. Her life basically fell apart a couple of years ago when her best friend Jonah chose another woman over her–although they've remained friends against the odds. But it leaves Marie feeling like she's not meant to find The One. Being in her late thirties and watching her two sisters dote on their families doesn't help much either. Then everything changes when Marie meets Tyler Brady.
'If I have a weakness for anything besides an injured or scared animal, it's for the man who's willing to swoop in to save it. Really, there's nothing I find more attractive.'
Tyler moved to town with an impressive team of sled dogs set up for the Iditarod. But he also cops an attitude when Marie calls him out on something serious–and then the bickering begins. Even though they share some heated glances, both of them have reasons to be wary of romance. Marie knows better than to give her heart to someone who might not take care of it, especially a solid guy like Tyler whose head and heart are stuck in the past. Although with time, who knows what the future could hold for them if they're both willing to work through their own personal issues.
"I thought we clicked. You know, during the race. Not so much before the race." He snorts. "But I guess I completely misread things, again."
"You didn't misread anything."
Talk about a book that has so much going for it–and one that completely delivered on every promise! Running Wild had the perfect blend of angst, attraction, family theatrics, and tangled up life choices, as you would expect from K.A. Tucker.
'Tyler knows all of my secrets, he knows what I want, and he's not shying away from any of it. At this moment, I know there is nothing I want more than him. All of him.'
I'm not new to K.A. Tucker's writing but I *am* new to the Wild series. (I know!!!) And after reading this awesome story as well as perusing a few online reviews, I'd say that might have put me at an advantage in this case. Because it sounds like the heroine, Marie, didn't necessarily get cast in a completely positive light in the previous novels. She was in love with her best friend Jonah who then fell for Calla–which left Marie stuck in the friend zone. I have a feeling, with the way things played out here and the scenes between her and Jonah and Calla, that fans of the series could be pleasantly surprised with Marie. To get her perspective on her best friend's relationship will likely be enlightening. And I think it will make readers understand where her heart was the whole time.
Marie's sort-of meet cute with new-to-the-area Tyler was equal parts awkward, funny, and heartwarming. They grumbled about each other and to each other for a bit, but the sled dogs were their connection–with Marie being a local vet and Tyler a musher in the Iditarod. But when their chemistry started getting the better of them, it had warning bells going off in my head. It was way too close to what Marie went through with Jonah in some ways and I'd grown to like her too much to want to see her get hurt again. Although, the way Tucker drew out the romance between them and added a few twists, it had me on the edge of my seat wondering how it could ever coalesce for Tyler and Marie. But it did! It might have taken them a long time to get there, but what a lovely send off this couple had.
QOTD: Alaska and the Iditarod were a great backdrop for this novel–a place and an event (to see, not participate in!) that are on my bucket list. What are some places/events on yours?
Book Info:

Publication: January 25th 2022 | Pub: K.A. Tucker | Wild #3
From the internationally bestselling author of The Simple Wild comes the story of a woman at a crossroads in her life, struggling between the safe route and the one that will only lead to more heartbreak.
Veterinarian Marie Lehr knows unrequited love all too well after pining for her best friend, only to watch him marry another woman. It's a mistake she will never make again, especially not when she can practically hear the clock ticking on her childbearing years.
The trouble is, she can't seem to find anyone who appeals to her even a fraction as much as that burly bush pilot did. Competitive musher Tyler Brady certainly doesn't, especially not after the heated altercation with the handsome but arrogant, spiteful man.
Or so she thinks.
While volunteering at the Iditarod Sled Dog Race, Marie discovers that first impressions may have been false, and her attraction to Tyler is very real. But his heart belongs to someone else, leaving him with nothing to offer but friendship. Marie's been down this road before and knows how that ends. Yet, no matter how hard she works to keep from falling for Tyler, it seems she's doomed to follow her own trail once again.