Reunion with Benefits by HelenKay Dimon is a passionate romance for a couple who let a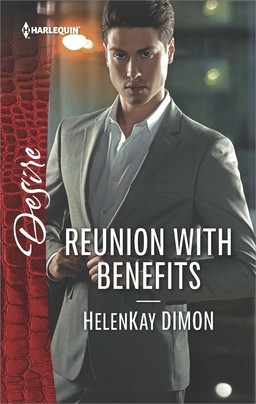 misunderstanding come between them but have the chance to set things right.
Spence Jameson and Abby Rowe were on the cusp of starting something good when things fell apart. Spence caught Abby in a compromising position, and it not only soured their friendship and working relationship, it caused him to leave his family company, Jameson Industries, abruptly without even giving her time to explain. But now his father has retired, and his older brother Derrick needs Spence's help. Derrick's fiancée Ellie is having a difficult pregnancy and Derrick needs Spence to help take on some of the company's projects. They want to expand and buy a new building and the head of the team assigned to make it happen and the woman Spence will be working with is none other than Abby.
Abby hasn't forgiven Spence for assuming the worst of her. She's kept that anger and resentment simmering, and having Spence back as her boss is definitely not helping. Never mind that the attraction between them is just as strong, and that he refuses to admit that he might have overreacted, or thought to question what he was really seeing. The lack of trust between them is going to be hard to overcome, but for the sake of the job they'll work together for the good of the company. The proximity makes it hard not to think of what might have been. Will they be able to let go of past hurts and give themselves a second chance?
I enjoyed this story! The misunderstanding is laid out right from the start and addressed head on, so it doesn't remain a mystery. It makes Spence confront some uncomfortable truths and he's got his work cut out for him to make it up to Abby. She's not a pushover, and she's not going to take anything less than a real apology and an acknowledgment that he made a judgement call without knowing all the facts.
Abby is a great female character, a strong and competent businesswoman who knows her own mind. It's why she has such difficulty believing Spence would throw in the towel on them so easily before and why she's hesitant to risk getting involved with him again. But Spence is very persuasive. Their love scenes are passionate and emotional as they reconnect.
There are some enjoyable scenes with secondary characters, specifically Spence's friend Jackson (who is also Abby's neighbor and confidante), and Derrick and Ellie. Derrick and Spence's brotherly relationship is solid, though complicated by having had a philandering and not always pleasant father who is currently making things difficult in the transition of company ownership by requiring them to meet certain conditions. It's the reason Spence is back in town but turns out to be for the best for everyone. There's also a subplot with a business acquaintance who has some tricks up his sleeve intended to discredit Abby. Spence and Abby eventually get their happy ending once they are willing to put their faith in each other. It's an entertaining romance, and I hope to read more about the Jameson family and friends.

Book Info:
Maria Rose| 4 Stars | HJ Recommends | No |
Publication: June 5, 2018 | Harlequin | Jameson Heirs #2
There are two sides to every scandal.
His side …and the truth.
After Spence Jameson's betrayal, Abby Rowe won't be in the same room with her former boss. Now he's returned to Jameson Industries, and Abby is running out of ways to avoid him–and the heat they can't deny. When a swank Washington, DC, party puts them in close quarters, her anger flares into passion–and a new scandal… But will it become their second chance?