In Dangerous (The Outcasts #1) by Minerva Spencer, Lady Euphemia 'Mia' Darlington hasn't had the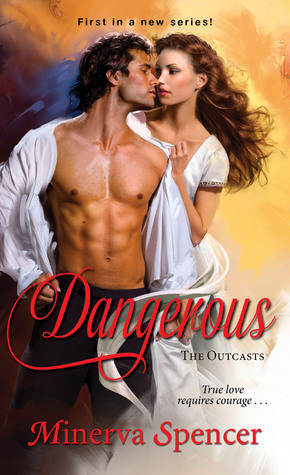 easiest life and now that she's returned it seems all her father wants is to see her married so he doesn't have to deal with her. However, the only man she's interested in marrying is Adam de Courtney; a man that has his own interesting past. Yet, the more time Mia spends with Adam, the more she finds herself doing the one thing she swore she wouldn't – fall in love. Since she has plans that don't include Adam being in her life for long. Will she go through with her plans or will she put her trust in Adam so she can have forever with the man she's fallen in love with?
His next words came out in a rush. "There is no reason you should endure the slight of a man like Exley offering for you."
His words surprise a laugh out of her. "He hasn't offered for me, Cian."
"He will." Mia blinked. Just what did her brother know that she didn't. "Look." Cian frowned, though he was agonizing over something and how to say it. "The truth is, you needn't take any of the horrors Father has thrown at you – Maugham, Chambers, none of them. I will not let him force you into an unhappy marriage. I give you my word on that."
This story started off a bit slow and took me until about a third of the way in to get into it fully, but I loved this story in the end. Really, the main characters were fantastic because of their back stories; the dialogue was riveting because the heroine has a secret that could cause trouble between her and the hero; and the plot was filled with a good dose of sizzling romance, moments where emotions run high because of what the heroine plans to do, and a dash of suspense that had me worried for the main characters and their forever after. Will they come out on top against someone that wants to see the heroine pay for something that happened in the past?
As for the dialogue, it was intense due to the main characters back stories and the dash of suspense that had me on the edge-of-my-seat. Will the pair come out on top? Moreover, the heroine had it tough with what happened to her in her past and I could understand why her father wants her married as quickly as possible to avoid scandal, if what happened to her and what she endured gets out. Luckily, she survived and has become a very driven, resilient, independent woman determined to not let anyone interfere in her plans. Will she succeed? Will she put her trust in the hero? While the hero, he's had his own horrible past, which he too has managed to overcome, even though the guilt still eats him up inside with what happened to his first wife and how it could affect his daughters in years to come. However, in saying that, the hero is charming, confident and I liked how determined he was to win the heroine over when they first met.
"Is it possible you are correct, my love?"
"Of course I am."
He chuckled. "What did I ever do to deserve you, Mia?"
She smiled and this time there was a distinctly wicked gleam in her eyes. "I don't know. But I think you should make an effort to show some gratitude."
Overall, Ms. Spencer has delivered a wonderful Historical Romance in this first book of her Outcasts series where the chemistry between this couple was strong and spills over onto the pages in nicely-detailed and sizzling sex scenes; and the ending had me liking how the heroine advocates for the hero's daughters rights to make their own decisions and that just because their mother was ill doesn't mean they'll turn out anything like her. Besides, they have something their mother never had in the kind and caring nature of the heroine and a wonderful man in their father to guide them through the ups and downs life may happen to throw them. However, it was the epilogue that wrapped this series up nicely and had me smiling long after I finished this story because of the plan the heroine has for someone she loves. I would recommend Dangerous by Minerva Spencer, if you enjoy Historical Romance, the marriage of convenience trope or books by authors Karyn Gerrard, Jenna Jaxon, Lynne Connolly and Kate Moore.

Book Info:

Publication: June 26th, 2018 | Kensington Books: Zebra | The Outcasts #1
What sort of lady doesn't make her debut until the age of thirty-two? A timeless beauty with a mysterious past—and a future she intends to take into her own hands…
Lady Euphemia Marlington hasn't been free in seventeen years—since she was captured by Corsairs and sold into a harem. Now the sultan is dead and Mia is back in London facing relentless newspapermen, an insatiably curious public, and her first Season. Worst of all is her ashamed father's ultimatum: marry a man of his choosing or live out her life in seclusion. No doubt her potential groom is a demented octogenarian. Fortunately, Mia is no longer a girl, but a clever woman with a secret—and a plan of her own.
Adam de Courtney's first two wives died under mysterious circumstances. Now there isn't a peer in England willing to let his daughter marry the dangerously handsome man the ton calls The Murderous Marquess. Nobody except Mia's father, the desperate Duke of Carlisle. Clearly Mia must resemble an aging matron, or worse. However, in need of an heir, Adam will use the arrangement to his advantage.
But when the two outcasts finally meet, assumptions will be replaced by surprises, deceit by desire—and a meeting of minds between two schemers may lead to a meeting of hearts—if the secrets of their pasts don't tear them apart.