In DIGGING A HOLE (OHellNo #3) by Mimi Jean Pamfiloff, As far as crazy schemes go, the one that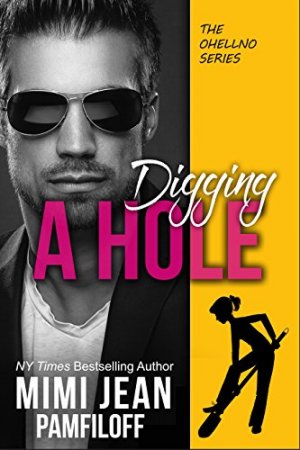 Sydney Lucas, aka Georgie Walton, comes up with is a doozy. She's tired of being the quiet, introverted, easily intimidated woman who lets everyone around her take charge. She's already stood up for her family once in the past few months and it made her feel pretty damn good. So now Georgie is going to prove she has what it takes to help run the family businesses. And to do so with pride and a sense of morality. Something that has been severely lacking in their business management team with her manipulative father at the helm. Now it's Georgie's turn to shine.
'If I didn't know any better, I'd say I'm acting like I dig this a-hole. Am I forgetting what type of man he really is?'
Posing as Syndey Lucas, a new intern, things don't start off on the right foot with Georgie's ogre of a boss, Nick Brooks. He's rude, egotistical, combative, and unfortunately hella sexy. But she knows that if she can make it through a few weeks of working as his assistant, she'll have found a new sense of confidence that will impress her family. Georgie finds out quickly, though, that she's not the only one hiding things. And that she'll have some choices to make about how far she's willing to go to prove she and her siblings are capable of handling the family businesses, and what she's willing to do to figure out if she and Nick might actually have a chance at a meaningful romance.
'I've never been looked at by anyone like that, like I'm so damned special they'd burn the world down to the ground just to have me. I think it's what I've been waiting my entire life for.'
Digging a Hole was a story where nothing was as it really seemed. There was more than met the eye with every single scene and every character. But in true MJP style, she had me rooting for people I thought I'd dislike and trying to figure out what shocking plot twists she was going to throw at us this time.
'Never in a gazillion years would I have imagined that I'd be the one pursuing this man, a man who once terrified me. Now the only thing that terrifies me is not having him in my life.'
I had an absolute blast reading Digging a Hole. As I knew I would. I mean, it IS a Mimi Jean Pamfiloff book so how could I go wrong? But Georgie and Nick were such a delight to watch as they danced around their attraction, fought like cats and dogs, and eventually ended up seeing eye to eye more than I figured they would. They seemed to have a knack for pushing each other out of their comfort zones and while it was highly entertaining the way it all went down, there were a lot of heartfelt moments that had a definite emotional impact.
Georgie was a great heroine. I think some people might scoff at first about her shyness and her introverted ways, but I connected with her right off the bat. I *adored* how honest she was about her timidness and how Georgie was so determined to conquer her fears. How can you not respect that struggle? She hadn't exactly had an easy go of it over the past year. But when it came down to it, she stood up for her loved ones and herself when it was needed. (And she became, as she called it, a Warrior Squirrel! Still timid but gets the job done. lol) I can't really get into too many details about Georgie and Nick's relationship, at work or otherwise, but I can say that neither one was looking for romance. Certainly not when there was so much at stake for both of them. It was amazing watching them figure it all out, though.
With a smoldering cover that gives us just a hint as to one of the surprises in store for readers, Digging a Hole was an unputdownable rollicking good time of a romance that captured my heart immediately.

Book Info:

Publication: June 19th 2018 | Mimi Boutique | OHellNo #3
From New York Times Bestseller, Mimi Jean Pamfiloff, Comes Book Three of the Ohellno Series, DIGGING A HOLE. (Standalone.)
HE'S THE MEANEST BOSS EVER.
SHE'S THE SWEET SHY INTERN.
THEY'RE ABOUT TO WRECK EACH OTHER CRAZY.
My name is Sydney Lucas. I am smart, deathly shy, and one-hundred percent determined to make my own way in the world. Which is why I jumped at the chance to intern for Mr. Nick Brooks despite his reputation. After ten failed interviews at other companies, he was the only one offering. Plus, everyone says he knows his stuff and surely a man as stunningly handsome as him can't be "the devil incarnate," right? Wrong.
Oh…that man. That freakin' man has got to go! I've been on the job one week, and he's insulted my mother, wardrobe shamed me, and managed to make me cry. Twice. Underneath that stone-cold, beautiful face is the evilest human being ever.
But I'm not going to quit. Oh no. For once in my life, I've got to make a stand. Only every time I open my mouth, I can't quite seem to muster the courage. Perhaps my revenge needs to come in another form: destroying him quietly.
Because I've got a secret. I'm not really just an intern, and Sydney Lucas isn't my real name.