Reunited by a Secret Child by Leigh Bale: Reese, a hotshot firefighter, has come home to the small town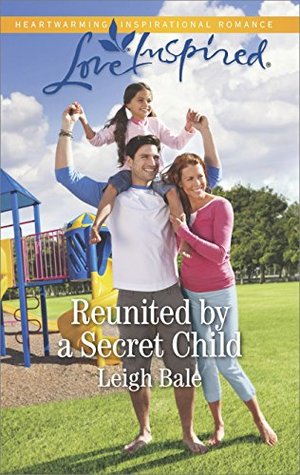 where he grew up, while he tries to put his life back together after his fellow firefighters have all perished. He is welcomed back to town by Katie, who always secretly cared for him in high school.
Katie is raising her 6 year old precious daughter Chrissy as a single mother while running her parents motel. When Katie welcomes Reese back to their hometown, she does it with the intention of telling Reese he is a father. Chrissy immediately bonds with Reese, even before knowing he is her father. Meanwhile, Reese makes it his business to "mend fences" with people in town whom he feels he wronged as a wild teenager.
While Katie works towards telling Chrissy that Reese is her father, Reese and Katie work on really getting to know each other all over again- and in the process, seeing if there is a chance for a future together.
This is a truly sweet story, one that will give fellow readers a few hours of reading pleasure! I definitely recommend it!

Book Info:

Publication: April 1, 2018 | Love Inspired | Men of Wildfire
Katie Ashmore thought she'd be a single mom forever…until hotshot crew firefighter Reese Hartnett comes home. Now Katie can't hide her secret—their six-year-old daughter! Learning he's a dad gives Reese hope there's a reason he survived the wildfire that killed his crew. And though he's bonding with little Chrissy, Reese wants more. He wants forgiveness…and a forever family.