You Can't Judge A Trope By Its Cover!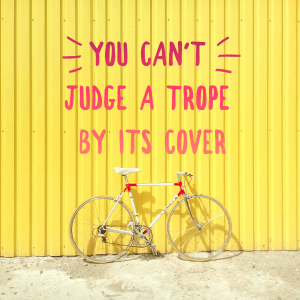 She Shoots, She Scores: 
I love romance. I love sports. It is quite logical then that I am, of course, I am obsessed with sports romance. I grew up playing sports and I still am super active in my daily life. So reading about athletes is so fulfilling for me. It's a culmination of some of the things I love most in life. Something about the competitive nature of athletes and how it comes out in romance (read: sassy, back and forth between the main characters) is addicting & fun to read.

Sports romance is a trope that I find incredibly relatable. Not that I don't enjoy reading about millionaires and go get 'em business folks, but that's not my wheel house, so after a while I tend to get a little bored. Sports romance never gets old for me. The terminology, competitiveness, sweat, blood & tears are where its at for me!
Here are some of my all time favourite Sports Romance:

So Over You by Kate Meader. What's not to love about this one? Both the hero and heroine are athletes! Isobel is such a badass and I'm always so inspired reading her story. She's not afraid of existing in a hyper-masculine sporting world and refuses to bow down to anyone.

Hothead by Stella Rhys. This is one of the hottest books I've read in 2018. I devoured it in one sitting. The combination of engagement of convenience, enemies to lovers & sports romance?!? I was in heaven. Evie and Drew have chemistry that is practically burning the pages.

How To Date A Douchebag: The Learning Hours by Sara Ney. This may be one of my all time favourite flips of a classic trope: the virgin! Despite being a star on his college wrestling team Rhett isn't exactly confident or experienced with women. His teammates have one goal: to get him laid. Through his teammates he meets Laurel – his ideal girl but will he be able to get the girl without any experience? This book is just so sweet and sexy I want to melt.

Rules of Entanglement by Gina Maxwell. Jax and Vanessa are polar opposites and they are perfect for each other! While straight-laced Vanessa is in Hawaii planning her best friend's wedding she ends of "fake engaged" to MMA Fighter Jax. That body and those tattoos have Vanessa wondering if there isn't something to be said for playing on the wild side.

Flat Out Sexy by Erin McCarthy. Do we count race car drivers as athletes? Well I do and Elec Monroe is one sexy athlete. Tamara and Elec are a beautiful couple. Tamara lost her husband two years ago in a driving accident, left alone with two young children her life has revolved around them and her job. A miscommunication lands her in  bed with younger man Elec who is determined to prove he's man enough for Tamara and her kids. Elec was my first ever book boyfriend. Need I say more?

How do you feel about sports romance? What types of sports do you feel are missing from this trope? I know I would love to read a sports romance about rock climbing !
Katharine
Connect:
Blog: https://goodbadandsmutty.wordpress.com
Instagram: https://www.instagram.com/goodbadandsmutty/