Reunited by the Greek's Baby the decadently exciting second chance love story of Theo and Isla and Annie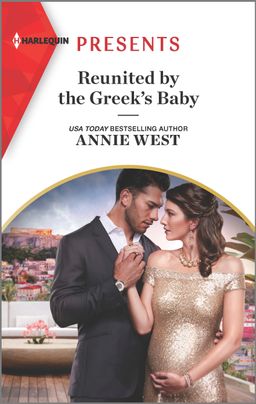 West's March 23 new release.
Always one to dive right in, I love how Annie immediately commences with the drama. Not often the scene is set in the prison visitors waiting room. When Isla is rejected I was on the edge of my seat because it set the scene with so many questions bubbling away. Theo's sudden reappearance after release is a shock to the system and Isla faints on the spot.
Revealing Isla isn't sick and that she's actually pregnant shocks Theo but he steps up and knows he'll do anything to become a family and sets out to prove this to Isla. Isla is a strong and brave human. The perfect match to Theo's tall dark and handsome stubbornness. Isla challenges Theo right up till the moment the truth comes out (which was a fantastic way of solving the mystery). Theo (of course) takes the whole story to realise the true extent of his feelings but the journey of him falling in love was awesome. The conclusion was perfect and the love pours off the page.
Drama, intrigue, love and laughter Annie led me on a journey that swept through my senses from my mind to my heart. It's so hard to put into words what a saga Annie's stories are. Not a word wasted. Every description heartfelt. I really enjoyed the visit to Greece and the archaeological side of the story. Finishing with a beautiful epilogue that I could clearly picture, I adored Theo and Isla's story.
Book Info:

Publication: March 2023 | Harlequin Presents |
When Theo Karalis was wrongfully imprisoned, ending his affair with Isla Jacobs was vital for her safety. Proven innocent at last, he discovers she's pregnant! Nothing will stop Theo from giving his child everything his own father denied him.
Isla tried to move on after Theo refused all contact. Yet, seeing his commitment to their baby, his offer of a Greek getaway is tempting…and so is rekindling their simmering chemistry! But will that be enough to convince Isla he wants her, not just his heir?