In Reunited by their Baby by Jennifer Taylor, when Callum O'Neill learns that he has a daughter,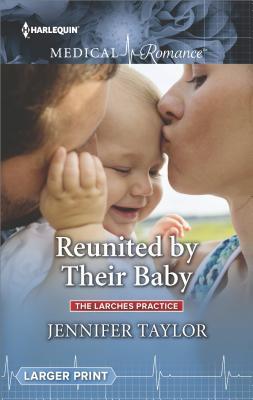 he rushes home to get to know his child. However, there's one thing standing in his way and that's the woman he's always loved, Beth Andrews. Certainly, she doesn't make things easy, especially when he's already let her down once when they were going through tough times during their marriage. Will Callum be able to win Beth over, or will their second chance at happy ever after never happen?
"That was different, Beth."
"Was it? Really? You got tired of me and left, so who's to say you won't get tired of being Beatrix's father and decide to leave her too?"
"I won't. I swear on my life that it won't happen," he said hotly, hating the fact that she had such a poor opinion of him. "She's my daughter and I'll never abandon her!"
"You say that now, Callum, but I'm not totally convinced."
The way this story started had me hooked immediately, as the hero is willing to do anything to get Beth to talk to him, even if it means interrupting a very important occasion in the life of a friend of Beth's. However, as this story progressed, I found the heroine frustrated me because – it seemed – she wasn't willing to give Callum a chance for their daughter no matter how much he proves himself. Will Beth come around? However, it was from the moment the hero and heroine met that had me smiling, as Callum is determined to win Beth back, even though he knows that isn't going to be easy.
As for the dialogue, it was intense due to the main characters back stories, which had me sympathizing with the hero because his parents weren't the best of parents and I liked how determined he was to be nothing like them. Moreover, the hero is confident, hard-working and I liked how determined he was to win the heroine over because there's nothing more important to him than family. I also liked that he didn't push the heroine when things got tough and she wouldn't give an inch. Will Callum be able to win back Beth's trust in him? While the heroine, I didn't like how tough she was on Callum, especially after discovering why he's only just coming back into her life. However, in saying that, I liked that she would do anything for her daughter and if that means protecting her from hurt if Callum decides to leave again then so be it. Furthermore, the heroine is strong and brave when it comes to facing the past and listening to Callum's reasons for deserting their marriage. Can she see that Callum was right? Was she too obsessed with having a child?
"You seem pretty sure about me, Beth. In fact, you don't appear to have any doubts at all that you might be wrong about me."
"You haven't given me any reason to," she shot back.
"No? So you don't believe that I love Beatrix and want only what's best for her?" He carried on when she didn't answer. "Don't let your feelings about what happened between us blind you to the truth. I love our daughter and I would never hurt her. I think you know that, only you're too afraid to admit it."
Overall, Ms. Taylor has delivered a good read in this book where the chemistry between these two was strong; the romance delightful once these two finally gave into their chemistry; the hero was brilliant from the beginning, but the heroine didn't fully win me over until towards the end when she finally realizes how important Callum still is to her; and the ending had me worried for one of the main characters, but had me enjoying how everything works out for this pair because they're so deserving of a second chance at forever after. I would recommend Reunited by their baby by Jennifer Taylor, if you enjoy medical romances, the second chance romance trope, or books by authors Lucy Clark, Amy Ruttan, Annie O'Neil and Tina Beckett.

Book Info:

Publication: April 1st, 2018 | Harlequin Medical | The Larches Practice #3
He's back to claim his family… But can Beth trust him with her heart?
GP Beth Andrews has a wonderful job at The Larches Practice and a baby girl she adores. The only thing missing is her husband! Now Callum O'Neill is back and he's stunned and delighted to discover he has a much-wanted child. He's determined to renew his marriage with Beth, but can she trust that this time he'll stay forever?