In Hello Stranger (The Ravenels #4) by Lisa Kleypas, Dr. Garrett Gibson has always felt like the odd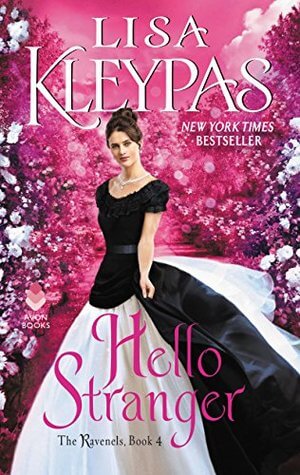 person out, being more interested in science and mathematics than in attending the latest social events. After years of studying she is currently the only female physician in England. But most importantly, she has the ability to help people get the medical treatments they need but can't always afford. Which also means Garrett sometimes finds herself in the scarier parts of London. Lately she feels as though someone is following her, putting her on edge. It turns out that devilish Ethan Ransom has been tailing her, watching out for her safety from afar. Garrett doesn't think it's necessary, having been trained in self-defense already, but when she's attacked in the streets she can't help be grateful for Ethan. It isn't long until she finds excuses to see him and is contemplating a romantic liaison with her handsome spy.
"Thank you," she murmured. "This is the first time a man's ever given me flowers."
"Ah, darlin'…" His perceptive gaze searched her face. "Do you intimidate men so badly, then?"
Ethan knew from their first meeting that he would need to stay away from Garrett or he would lose his heart to her. No matter how he tries, though, their paths keep crossing. Even when he attempts to stay in the shadows. Ethan would love to be able to court Garrett like she deserves, but with a job as dangerous as his, he can't put her in a precarious position like that. But his good intentions are thrown out the window when he's gravely injured and only Garrett has the skills as a doctor to save him. As Ethan recovers and plans his next move to take down members of the upper echelons in London, he tips over the edge to falling madly in love with his beautiful Garrett. With the help of the Ravenels–whom he has made a new truce with after finding out they don't hold him responsible for being a family by-blow–and of course courageous Garrett by his side, Ethan is armed and ready to do whatever it takes to end the nefarious plot he's uncovered.
"You wanted to find out how much I could make you feel. You wanted to know what it was like to lose yourself in passion, and find yourself safe in my arms afterwards. Now I'm here, and I'm going to love you with everything I have in me."
Historical romances don't get much more exciting or sensual than Hello Stranger. The pairing of a gutsy female physician and a handsome, daring spy proved to be just the right combination to make this a true page-turner of a novel.
'God, he wanted her beyond any reckoning of heaven or earth. But her well-being mattered a thousand times more than his own desires.'
I truly do adore Lisa Kleypas's books. Especially the characters she creates. I swear she has some of the most unique heroines who are far ahead of their time–in the best of ways–and the swooniest (yes, that's a word) heroes in historical romance today. And with this particular couple, Garrett and Ethan, wow what a stunning love story it was between them. I will say that I did get a tad confused sometimes with Garrett's first name as it was not necessarily befitting a heroine. There was a reason why her parents gave her that name, which I will let you read about on your own. But other than that, I had a great time getting to finally know more about the lady physician and her dashing man.
I think every time I read the latest book by Kleypas I say that the hero is my new favorite. Ethan definitely ranks up there with the rest of the hotties, I mean, heroes she's had in this series. He had such a wonderful way with words, so sweet and tender one moment and then sexy and sinful the next. Lucky Garrett! 😉 But aside from Ethan's smooth talking, I loved how he was there for Garrett every step of the way. And particularly how he was protective but not overprotective. He even taught her some self-defense moves that would help her on the street as she went to the seedier parts of town to help the sick and needy. Loved that! Garrett was full of strength, intelligence and kindness, but instead of letting it intimidate him, it sort of bolstered Ethan. He felt like he could be himself–the parts of himself he hid away from everyone–around Garrett and I think it helped them connect on a very deep level, showing their mutual respect for each other.
Full of danger and lies, romance and wickedly wonderful dialogue, Hello Stranger is worthy of any historical romance fan's to-be-read shelf.

Book Info:
Michele H| 4 Stars | HJ Recommends | No |
Publication: Published February 27th 2018 | by Avon | The Ravenels #4
A woman who defies her time
Dr. Garrett Gibson, the only female physician in England, is as daring and independent as any man—why not take her pleasures like one? Yet she has never been tempted to embark on an affair, until now. Ethan Ransom, a former detective for Scotland Yard, is as gallant as he is secretive, a rumored assassin whose true loyalties are a mystery. For one exhilarating night, they give in to their potent attraction before becoming strangers again.
A man who breaks every rule
As a Ravenel by-blow spurned by his father, Ethan has little interest in polite society, yet he is captivated by the bold and beautiful Garrett. Despite their vow to resist each other after that sublime night, she is soon drawn into his most dangerous assignment yet. When the mission goes wrong, it will take all of Garrett's skill and courage to save him. As they face the menace of a treacherous government plot, Ethan is willing to take any risk for the love of the most extraordinary woman he's ever known.