In Reunited by their Secret Son by Louisa George, Sophie knows she needs to tell Finn that he's a father,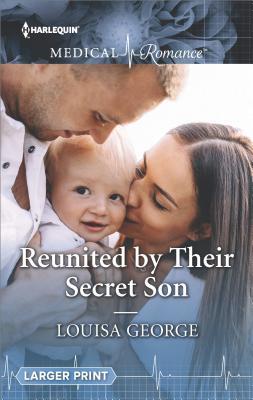 but after his disappearing act how is she to trust that he'll want to be a part of their son's life. However, when she confronts Finn with the truth, will it give them a second chance at happy ever after or are the hurts of their pasts too onerous to overcome?
"But really, Sophie, there's no line. I know where we stand here. Seriously. I just like to make you laugh."
Her eyes widened and she blinked. "Well, it has to be better than the way you've been making me feel for the last few years."
"Blamed for something I didn't even know I was doing." This time he laughed too. "So, seriously, how can I make things better?"
"You can't do anything, Finn, except be here for Lachie now and in the future."
Ms. George delivers a good read in this book where emotions run high because of the history between these two and everything this couple have been through in their pasts that has brought them back to each other in hopes of a second chance at forever happiness. As for the way this story started story started, I liked the hero immediately, as he's a good doctor that would do anything for his patients. However, it was from the moment the hero and heroine come face-to-face for the first time that had me reading quickly, determined to discover more about the hero and what he's been through and why the heroine has been unable to tell him the news before this moment.
"Okay, well, don't think you can keep waving your magic wand and solving all my clients' problems."
His eyebrows rose and he smiled. "Sophie Harding, you really do seem a little obsessed with my magic wand."
"I am not." Okay, she might be a little intrigued. After all, she'd experienced him before and knew what would be in store.
As for the dialogue, it was intense due to the main characters back stories, especially that of the hero, because he's survived so much but still struggles with everything he's been through. Will he be able to be a good dad to Lachie? Will the hero be able to make peace with his past? Moreover, the heroine was resilient, courageous and I liked that she gave the hero a chance in the end because they still have really strong chemistry between them. I also liked how good she is at her job. She's confident in calming down any tough situation, which is proven by what she attempts to do for a woman that needs her help, even though she's lucky Finn is at her side in that moment.
While the hero, he's been through tough times and I liked how hard he's worked to get his life back on track, even though things for him can never return to the way they were. I also liked how determined the hero was to get to know his son, which is proven in the moments he spends time with Sophie and their son. Yet, what I liked most of all about the hero is how determined he was to win Sophie over. However, I couldn't help but sympathize with Finn because of what happened to him and how he's afraid he'll never be a good enough father to his son. Will the heroine be able to prove to the hero that he is good enough?
Overall, Ms. George has penned a pleasant read in this book, which started off slow and didn't have me fully invested until the heroine was ready to give the hero a chance. Yet, I must admit I absolutely loved the last half of this story, as readers discover more about what happened to the hero and whether he'll ever be comfortable enough to share all of himself with the heroine. Furthermore, the chemistry between this couple was strong; the romance shows this couple's strong chemistry really well; and the ending had me worried for this couple's happy ever after because of what happens that causes their relationship to go awry, but had me liking the hero's determination to prove that he can be all that the heroine and their son need. I would recommend Reunited by their Secret Son by Louisa George, if you enjoy second chance romances or books by authors Scarlet Wilson, Amy Ruttan, Caroline Anderson and Jennifer Taylor.
Book Info:

Publication: April 17th, 2018 | Harlequin Medical |
It started with one night…Will it end with them becoming a family?
Sophie can never forget her sizzling encounter with gorgeous stranger Finn. How can she, when her beloved little boy's a daily reminder? And she can't forgive Finn for disappearing without a trace afterward. But she's shocked to come face-to-face with him in her son's physiotherapy appointment and sees how much he's changed… Could this be their chance to finally become a family?