On the Line by Liz Lincoln is the first story in her new football romance series and is a fun and sexy 'single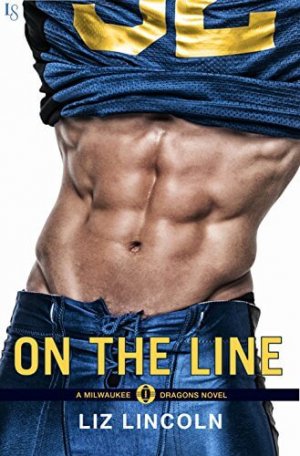 parent falls for the nanny' tale.
Carrie Herron has her hopes up on finally getting into the dating game again when she meets a man at the grocery store and they exchange numbers, and some sexy texts. But when it turns out he's the guy her brother has set her up with for a nanny job, her heart sinks. Getting involved with her new boss, no matter how sexy and handsome he is, is a recipe for disaster.
Seth Chamberlain is doing his best to settle in to his new town, his new team, and with his tween going on twenty daughter who is not enthused with their move. And when his best prospect for a date shows up on his doorstep ready to move in and help with his daughter, he's bummed too. Carrie had already shown herself to be caring and generous even before she started taking care of his daughter, and as a live-in nanny she's got his household running smoothly. And he just can't put that attraction away as much as he'd want to. It's mutual, and some solo sexy times on each of their parts soon isn't enough. A secret affair is one thing, but when his daughter, and Carrie's brother find out, will it be over before it's barely begun?
I really enjoyed this story! The meet-cute is fun, and the trope plot is predictable but with unique characters to pull it off well. Carrie is into comics and cosplay, which makes her a hit with Seth's daughter Maddie and helps to ease the transition into her living with them full time. Carrie loves to dress up in character as Poison Ivy and she gets to do that for a con, though she hadn't anticipated having Seth and Maddie there with her. Her sexy costume is too enticing for Seth to ignore and their hotel room heats up in a sexy scene that gets repeated a few more times as they start to develop real feelings for each other.
As a football romance, there are some good scenes on the field and in the locker room, complete with the usual bromance between teammates. There comes a point where Seth and Carrie can't keep the secret anymore and the impact that has on their situation results in some soul searching before the well deserved happy ending. It's an entertaining romance and I'm looking forward to reading more of the series!
Book Info:

Maei Publication: April 17, 2018 | Loveswept | Milwaukee Dragons #1
Is this man: A) a super-hot NFL player, B) the guy you're sexting, or C) your new boss?
If you're Carrie Herron, the answer is: D) all of the above. First, Carrie starts exchanging steamy text messages with the sexy single dad she meets in line at the grocery store. Then she lands a job as the live-in nanny for the daughter of the Milwaukee Dragons' newest star. With any luck, she'll be back on her financial feet before the next cosplay convention rolls around. But when Carrie shows up for work and realizes that her new boss is the guilty pleasure in her phone, she has no choice but to try to keep things professional. Oh, how would Poison Ivy handle a temptation like Seth Chamberlain?
After getting traded from Houston to Milwaukee, Seth's having a tough time keeping his head in the game, let alone making sure that his daughter is fitting in. So if the only nanny that Madison will tolerate is a grown woman who likes comic books even more than she does . . . well, so be it. Too bad the nanny is also the gorgeous redhead Seth's been flirting with all this time. But with Carrie's knowing glances and kissable lips driving him wild, Seth must decide whether he's ready to put everything on the line.