In Reunited with her Army Doc (Sinclair Hospital Surgeons #1) by Dianne Drake,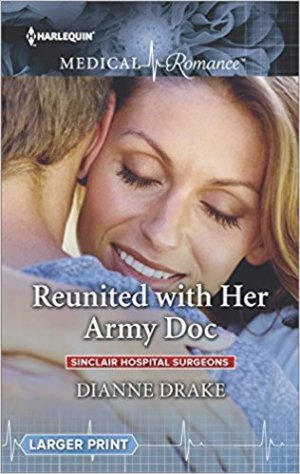 Leanne Sinclair was the girl Caleb Carsten had a childhood crush on until she broke his heart. However, she can't seem to remember what she did that was so wrong to have him treat her rudely now when they come face-to-face for the first time in years. Still, she's determined to make things right, so he'll accept the job she's offering. Yet, the more time Leanne spends with Caleb and his very gifted son, the more she finds herself ready to change the plans she had for her future. Will Caleb be able to forgive Leanne for what she did in the past, or will their chance at happy ever after never happen?
"But a lot of girls go after the bad boys."
"Except I wasn't a bad boy, Leanne. I was a misguided boy, and a very confused one, and that's a big difference. Bad boys want to be bad to make an impression. Misguided boys just want to fit in."
"So, you're describing yourself as confused back then?"
He took another sip of wine. "I'm describing myself as a boy who got warned, over and over, but stepped into it, anyway."
What an enjoyable read Ms. Drake has delivered in this first book of her Sinclair Hospital Surgeons series where the riveting dialogue had me liking the bond between the hero and his son, as he would do anything for the young boy; and the main characters have a tempestuous past that has the hero needing to find a way to forgive the heroine as well as the heroine needing to remember what she did that makes the hero so unfriendly towards her when they first come face-to-face. The way this story started had me fascinated by the hero's journey back to town, because he's only come back to Marrell for his son. However, it was from the moment the hero and heroine come face-to-face for the first time that had me very interested to discover more about their past history and whether the hero would be able to give the heroine a chance at friendship or more.
As for the main characters, I absolutely loved the hero, because he's been through so much in his past and has come out on top in the way he's turned his life around from the delinquent teenager he was to a hard-working man who is a good father. I also liked how he handled the heroine and his animosity towards her in the beginning, even though it's hard for him to be able to forgive and forget what she did in the past. Why did she turn away from their friendship? While the heroine, she's overcome a tough past as well because of what happened to her that sent her running from Caleb's friendship when they were younger and I liked how resilient she is when it comes to everything she faces. Will she return to her life or will she stay in Marrell? Will she do what her dad wants? However, there were moments where the heroine frustrated me, because it seemed like she thought she was too good to live in Marrell and that the life she leads in Seattle is the best ever when it seems anything but because of her boyfriend.
He sniffed, fighting back his own tears. "We are a mess, aren't we?"
"We are. But I think it's a mess we can straighten out, if you want to. But you must be the one to say you want to, because I've been standing here with my heart on my sleeve for quite a while now, and I haven't seen your heart yet. And I have to see it."
"You are my heart, Leanne. Always have been, even though I took some odd paths to get where I could say that to you."
Overall, Ms. Drake has delivered a good read in this book where forgiveness is important; the chemistry between this couple grows stronger throughout this story, as Caleb and Leanne get to know each other again; and the ending had me worried for one of the characters in this story, but had me loving that the hero and heroine get their happy ever after. Besides, I love the words they say to each other that proves second chances are possible despite the tough obstacles they faced to be together. I would recommend Reunited with her Army Doc by Dianne Drake, if you enjoy the enemy to lovers trope, second chance romances, or books by authors Amy Ruttan, Charlotte Hawkes, Susan Carlisle and Sue Mackay.

Book Info:

Publication: January 1st, 2018 | Harlequin Medical | Sinclair Hospital Surgeons #1
Can he trust her with his heart?
Army doc Caleb Carsten will do anything for his gifted son—even if it means returning to his home town of Marrell and working for Leanne Sinclair, the childhood crush who once broke his heart.
Leanne is thrilled to meet Caleb again. But why can't she remember more about their past, and what she did to hurt him so badly? And if Leanne can't show Caleb she's changed, will he ever trust her with his heart?