Reunited with Her Italian Billionaire by Nina Singh: One day you wake up and realize you are who you were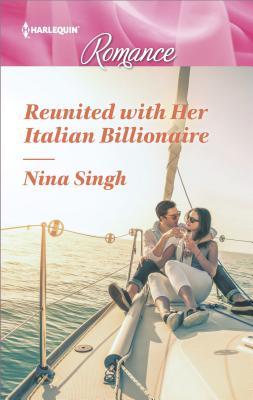 when you got married, in fact you aren't really sure who you are any more. What do you do then?
Brianna Stedmen wasn't sure. She knew she loved her son and her son's grandmother, but did she know her husband? Did she have a clue about who she was any more? Why had she gotten married? Why were she and Marco no longer happy? Were they ever?
Marco Dirici wasn't sure what was going one. All he knew was that while he was busy trying to get his family business to where it needed to be his wife was making plans to leave with his son. How did that happen? How was he going to figure out how to co-parent his son when his wife was halfway around the world?
Brianna and Marco may not think they have a lot in common, but they both love their son and will do anything for him. What is best for the little guy though, together or apart?
Wow, Ms. Singh has given her readers a heck of a story with these two. The problem with the plot though is that it does go just enough deeper into the story than most to make you want more. It's almost as if she is deliberately leaving you wanting for more of the whys. The resolution itself isn't very satisfying if you are looking for more. However the brilliant writing of what is there can make up for a lot of the holes. This is also a wonderful read for anyone who doesn't want to think very deeply but wants more than a "candied" romance.

Book Info:

Publication: February 6th 2018 | Harlequin Romance |
It started with a marriage for their baby… Now Marco's back–to claim his wife for real! Brianna's marriage to Italian tycoon Marco Dirici was for the sake of their unexpected baby. But Brianna needs the one thing she's realized Marco can never give her–love. Fleeing to New York with her young son, Brianna tries to forget the magic of her husband's touch. Until Marco arrives on her doorstep, determined to reclaim his family!