Smooth-Talking Cowboy by Maisey Yates: Olivia is so close to her perfect life. She just had to break up with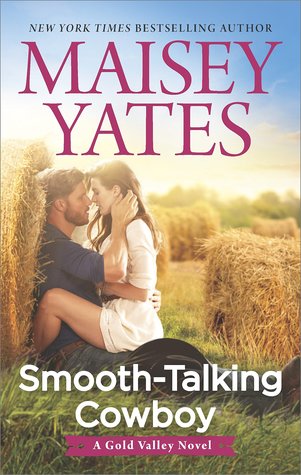 her boyfriend to give him a little push in the butt to propose – and he'll certainly do so soon enough. But in comes Luke, liked by all but Olivia who can't help but be attracted to him against her wishes.
Luke has always wanted Olivia, but he knows he'd never have a shot. Not when she's so in control and so set on one of his best friends. But Luke finally gets the chance to be with her when Olivia is open to using Luke to push her ex a little harder, using jealousy.
But what Olivia doesn't want to accept is both her attraction to Luke and the lack of real love between her and her ex. The life of safety and perfection she has always lived may not be what she wants after all. Instead, it may be the passion with Luke which truly makes her feel alive.
I can't say I like the whole trying to win another guy using jealousy plotline. It doesn't ring well for me, however while reading the story I definitely get it. Olivia has been stuck in this role of good girl who needs this good and perfect life. Her parents and history with her twin sister fully shaped Olivia into needing a specific path.
In come Luke to mess up that path and I couldn't be happier for both of them. Olivia needs passion, and Luke needs the sense of direction and roots that he has been missing his entire life. His desire for Olivia pushes him there, and he finally forms roots in the town that has been his adoptive home for so long.
I love Maisey Yates' books, and I fully recommend Smooth-Talking Cowboy as an offshoot of her Copper Ridge series. This one felt less developed and deep as her others, but certainly just as passionate and with just the right amount of tension between the hero and heroine.

Book Info:

Publication: February 20, 2018 | Harlequin | Gold Valley #1
Welcome to Gold Valley, Oregon, where a rough-and-tumble rancher and the girl next door are about to learn that opposites attract
Olivia Logan has a plan: win back her ex by making him see what he's missing. But first she needs to find a man who's willing to play along. With his laid-back cowboy charm and knack for getting under her skin, Luke Hollister is an unlikely hero—but he wants her help convincing her father to sell him land, which means he needs her as much as she needs him.
Luke likes his life—and his women—uncomplicated. So why does good girl Olivia heat his blood like no one else? She's always been off-limits, but the more time they spend as Gold Valley's hottest new "couple," the more real it's starting to feel. Luke was supposed to help her win back another man…not keep her in his arms. But now that he has her there, he's not sure he'll ever let go.